HSBC China Mobile Banking helps you manage your personal account anytime, anywhere. Mobile Banking offers improved user experience, a variety of RMB/foreign currency transfer and remittance services, HSBC Global View and Global Transfer, investment and financial management, credit card services and other functions. It is your professional, safe and convenient financial assistant.

Feature highlights
Local and foreign currency transfers and remittance
New window
Interbank RMB transfer in real time for small amounts with free of charge. No restriction on weekend and holidays
Use facial recognition to complete safety verification and add new payee account
Enjoy global transfer and achieve real-time foreign currency cross-border transfers between your accounts.
Investment and wealth management
New window
Structured Products have diversified structure for investment return. Explore sound investment plans for your demands.
QDII provides open-ended Offshore Funds/QDII Overseas Bonds across various asset classes, regions and currencies to capture global opportunities.
Wealth dashboard clearly presents real-time income from investment and changes on assets.
Foreign Exchange services
New window
Use real-time foreign exchange, and provide Foreign Exchange solutions with competitive exchange rates. Applying foreign exchange on digital channels can enjoy extra discount.

Credit card services (Chinese only)
New window
Full services of credit cards are on Mobile Banking. Brand new interface, friendly user experience, easy registration process & one-stop services are tailor made for credit card customers.

Online smart agent – Xiao Feng
If you have any questions or want to know more about our services and products, you can contact our smart agent "Xiao Feng". It will provide 7x24 online services for you.

Download our HSBC China mobile banking APP to enjoy the following services!

Basic account services
Logon HSBC mobile banking and enjoy below account services, details please refer to the information on each service page:
Card replacement (debit cards that have been damaged or reported for loss)
Upgrade qualified Advance account to Premier account
Book We Doctor health management services on Health Hub (exclusive to Premier Family account holders)
Online service – smart agent Xiao Feng & live chat
If you have any questions or want to know more about our products and services, please click on the customer service icon on top right of our service landing pages, or click on "Customer Service" button on "More" page. Our smart agent "Xiao Feng" will provide 7*24 online services for you. Live chat with our professional staffs will also be available from 9 am. to 9 pm. everyday, providing services on hot offers, account inquires, branch appointment, cash appointment, card report loss, credit card points, etc.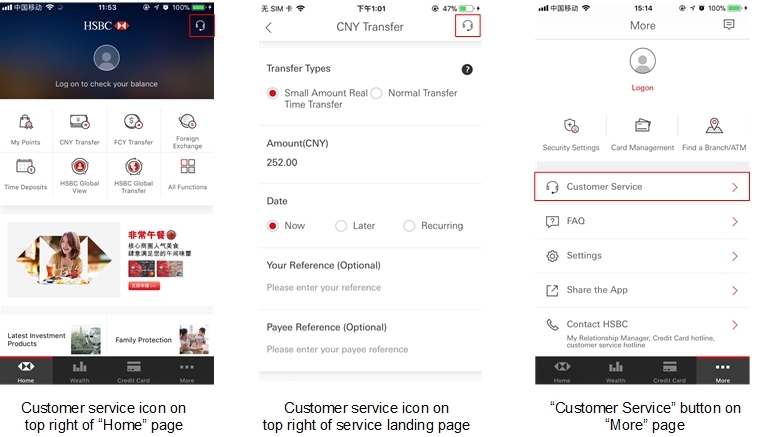 Online reactivation for dormant/unclaimed account
To easily manage your HSBC China accounts, if your account is dormant or unclaimed, you can log on mobile banking and go to "Local Accounts" page to quickly reactivate selected dormant or unclaimed account with easy steps*.
* If you have one of following situations, you need to visit any branch with the passport or ID card to reactivate accounts. If not, you can enjoy convenient online reactivation.
You don't have any active account, but you are holding at least one dormant account. Also, you modified your phone number within last 60 days.
All accounts you are holding are unclaimed accounts.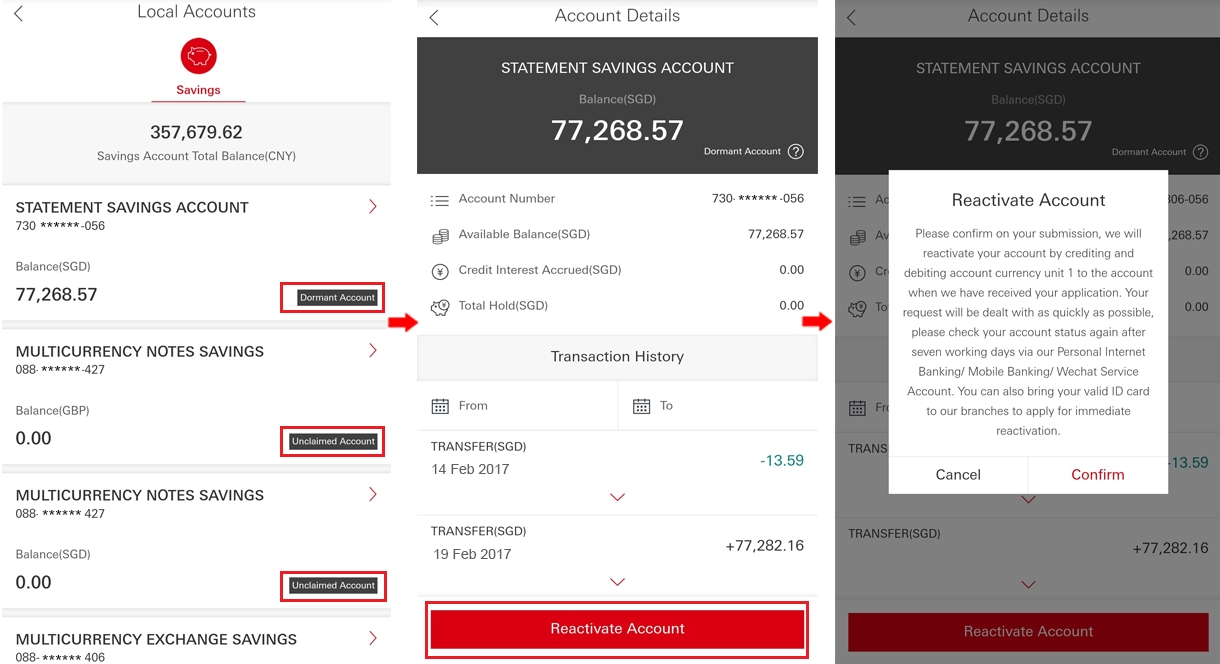 My payee
The "My Payee" menu will be separated from other menus on our mobile banking. The change will make it easy for you to manage your transfer payee list. You can select "All" on the home page and then select "My Payee" to enter the payee list menu.

Interbank transfer in real time for small amount of money
HSBC China has joined in "Electronic Banking Payment System" and mobile banking is now supporting real-time interbank transfer for small amounts in order to provide you more convenient transfer inward and outward services. Interbank RMB real-time transfer for no higher than RMB50,000 will have free of charge and will not be restricted by weekend and holidays (except system or clearing maintenance). What's more, simplified transfer information allow you to select bank name directly from bank list (within the same "Electronic Banking Payment System"). When transferring inward, you can now input either HSBC China card number or account number to easily complete transfer request.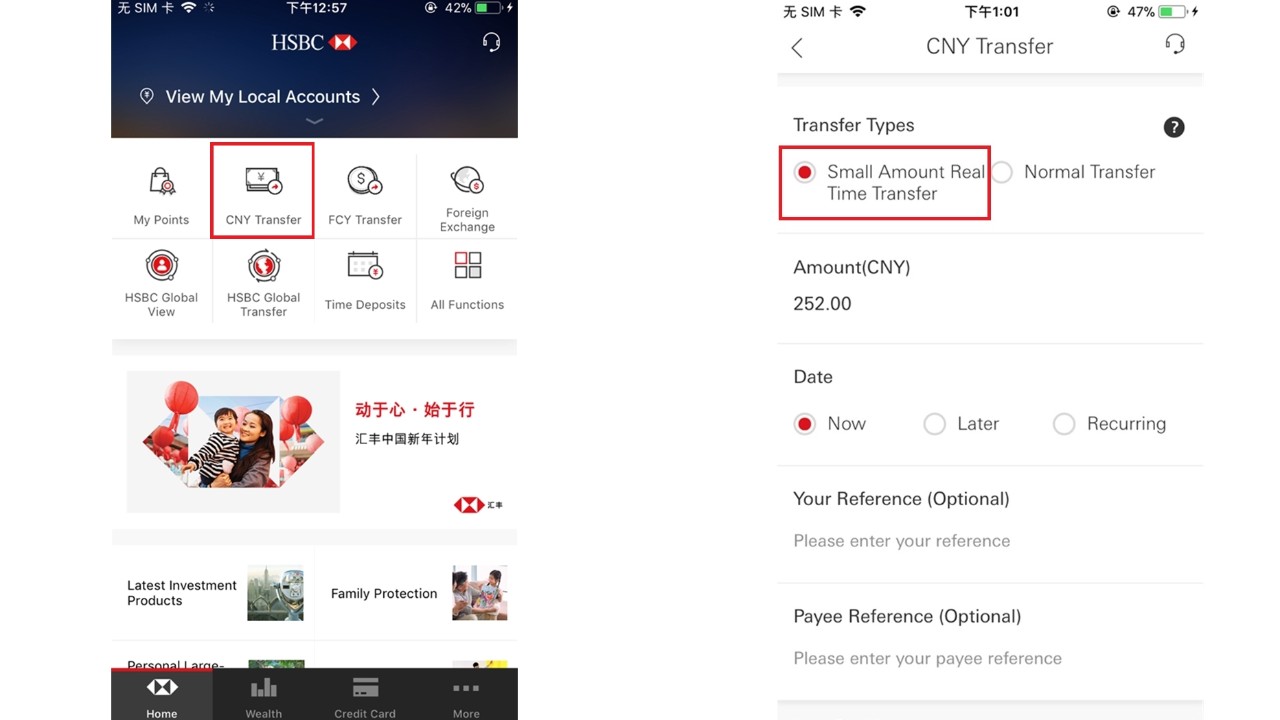 Make RMB transfers with your mobile phone number
Thanks to the new feature in EBPS, HSBC China mobile banking now supports the mobile phone number RMB transfer in a safe, stable, and effective way. You'll only need the mobile phone number and the name registered with the bank to either make payment or receive money. You don't need to type in long account or card numbers that are difficult to remember.
Users can arrange for money transfers using their mobile phone numbers across all bank accounts registered for this function ( on the condition that the account holding banks support this function).
Only Mainland China residents and Mainland China phone numbers will be able to collect money using a registered mobile phone number. The HSBC junior account does not support money transfers and collections using mobile phone numbers.
The daily transfer limit is set at RMB10, 000, and this amount will be shared with the daily transfer limit to third party.
To register mobile number money receiving : Log On HSBC China Mobile Phone Banking-> CNY Transfer->Transfer settings -> Mobile number receiving settings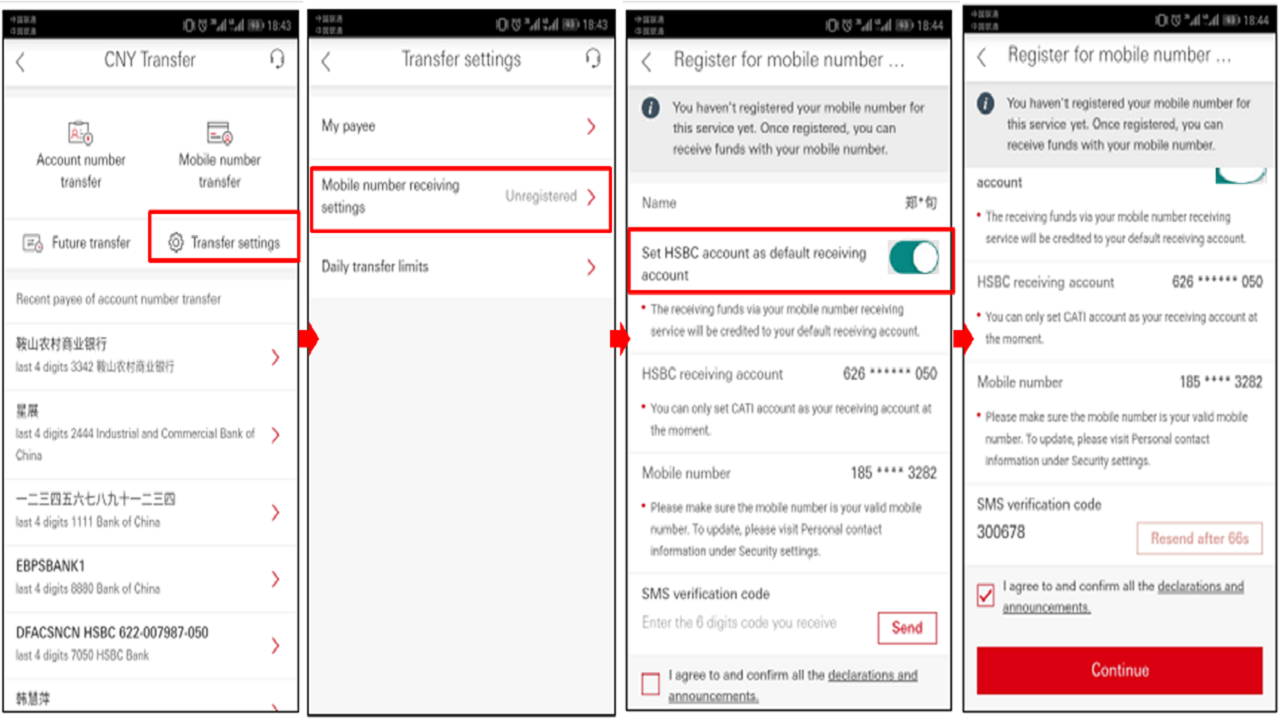 To make mobile number transfer: Log On HSBC China Mobile Phone Banking-> CNY Transfer->Mobile Number Transfer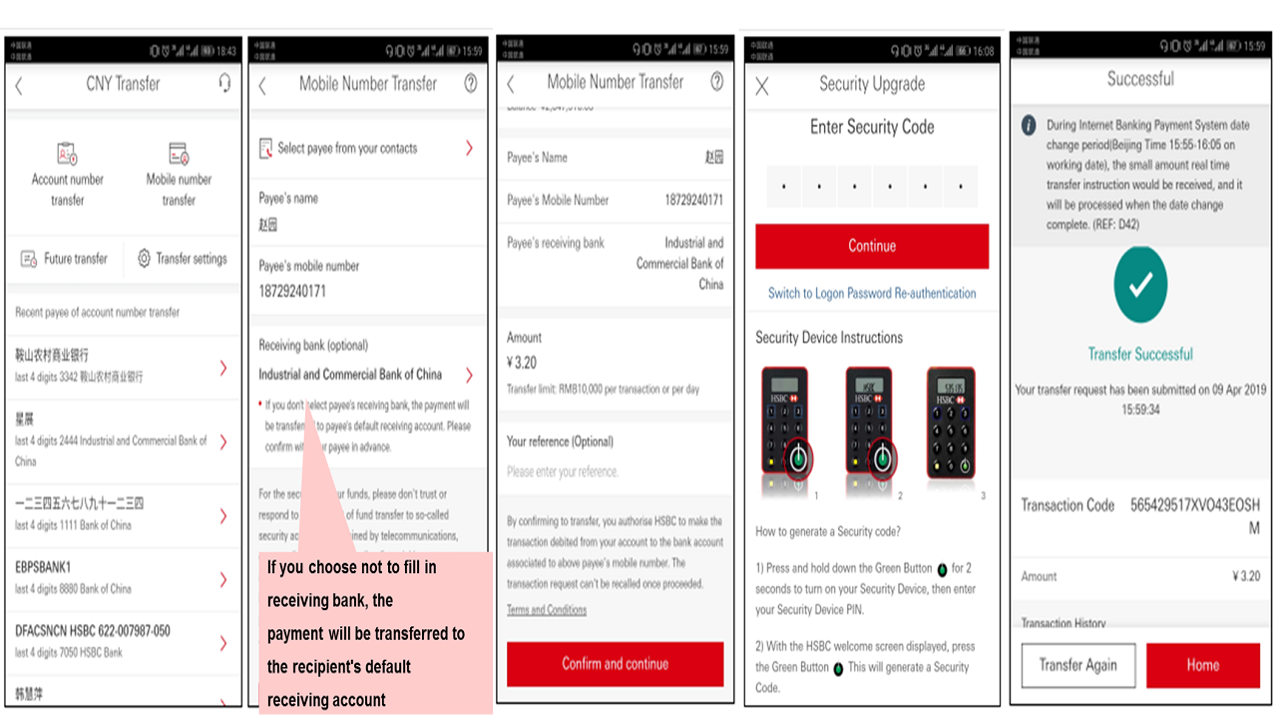 Debit Card Lock
To keep your debit card more secured and away from unsafe transaction, you can now log on the HSBC Mobile bank, and lock your debit card in "Card & Account Settings", choose the card, and finish the setting up in a few moment.
*Card Lock is only applicable to the current debit card, and will not affect any account.
You can choose to lock four kinds of transaction : Payment with card, Payment without card, ATM transaction, and oversea Transaction
You can choose everyday Lock Time (GMT +8) based on your preference
If you wish to unlock the card, just get in the settings again, and switch off the lock instantly after completing the SMS verification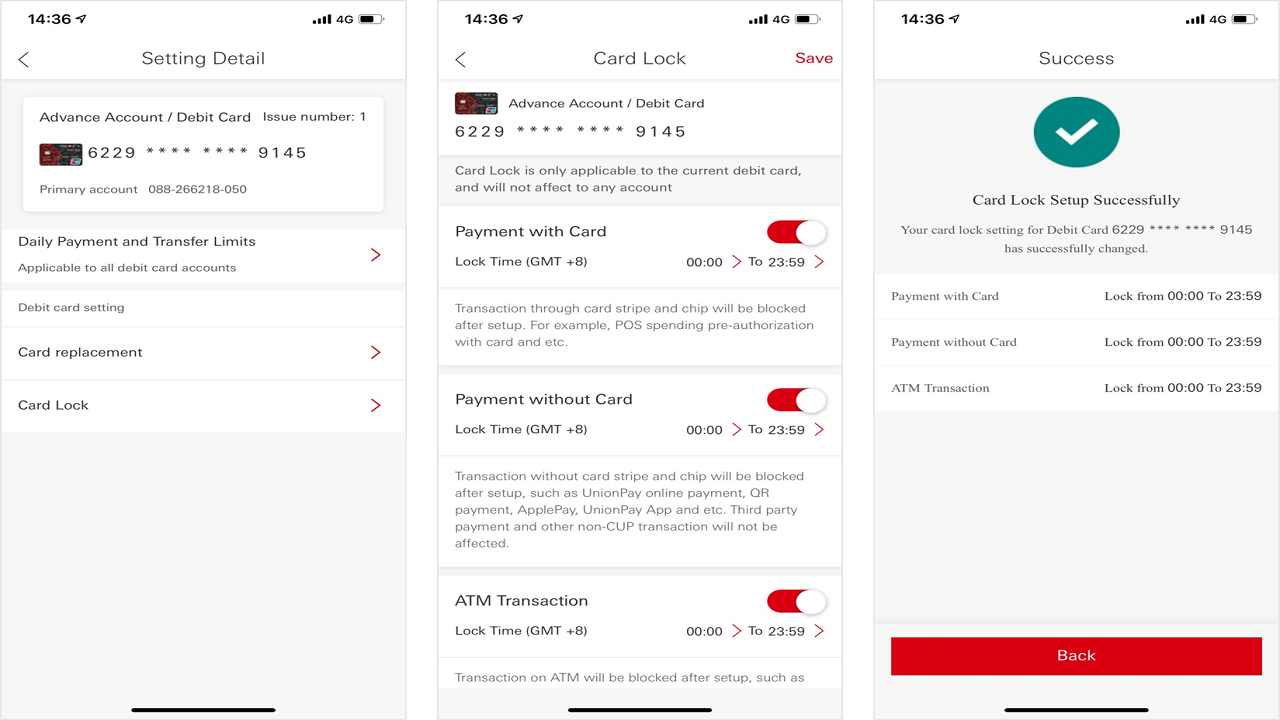 Manage daily transfer limits
Nowadays, except going to Personal Internet Banking, you can also manage your daily transfer limits on mobile banking. It includes "transfer to my HSBC accounts" and "set daily limits by transfer type". But please kindly note that you can only decrease transfer limits on mobile banking. If you would like to increase it, you still need to go to sub-branch.

You can click on "More" item on bottom navigation, then select "Settings" and "Account Settings". You will find "Daily Transfer Limits" link and reach to the page by clicking it.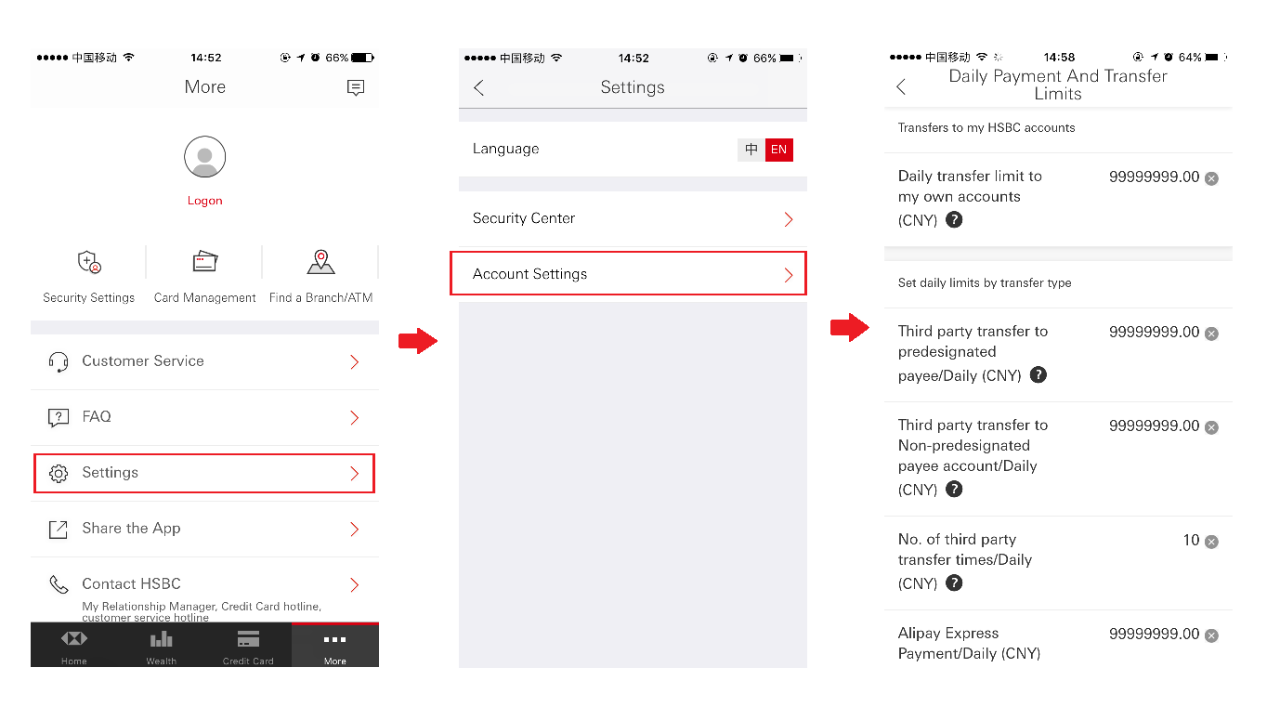 HSBC "Step-up" Time Deposit online purchase
Want to have higher interest rate than that of HSBC's board rate, but also want to early withdrawal? Go and purchase HSBC "Step-up"Time Deposit on HSBC China mobile banking with easy steps. Having additional interest on the Top-up Amount for each term, more flexibility in interest settlement and minimum loss on early withdrawal, HSBC "Step-up" Time Deposit will be a good choice for your sound investment plan.
Click on "Time Deposits" on "Home" page to find the list of various HSBC "Step-up" Time Deposit products. You can go to "RMB Time Deposit Special Offer"page to know more about product information.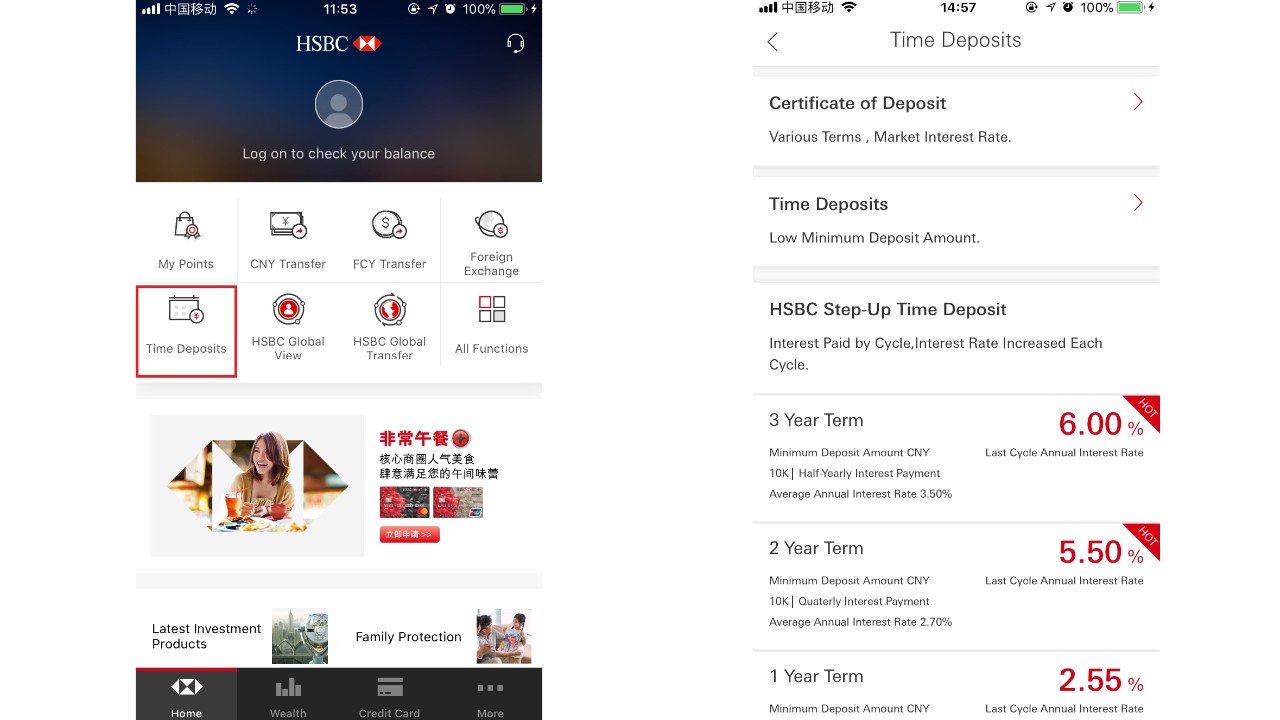 View and redeem debit card points
If you are debit card customers, you can earn points by using debit card or participating activities. The points can be used to redeem gifts or get offers.

If you are holding both debit card and credit card, you can acquire 2 types of points. Both points can be used together to apply for more delicate gifts and offers according to redemption rules.
Click on "My Points" on "Home" page or on "Credit Card" page to understand point changes and learn more about best offers.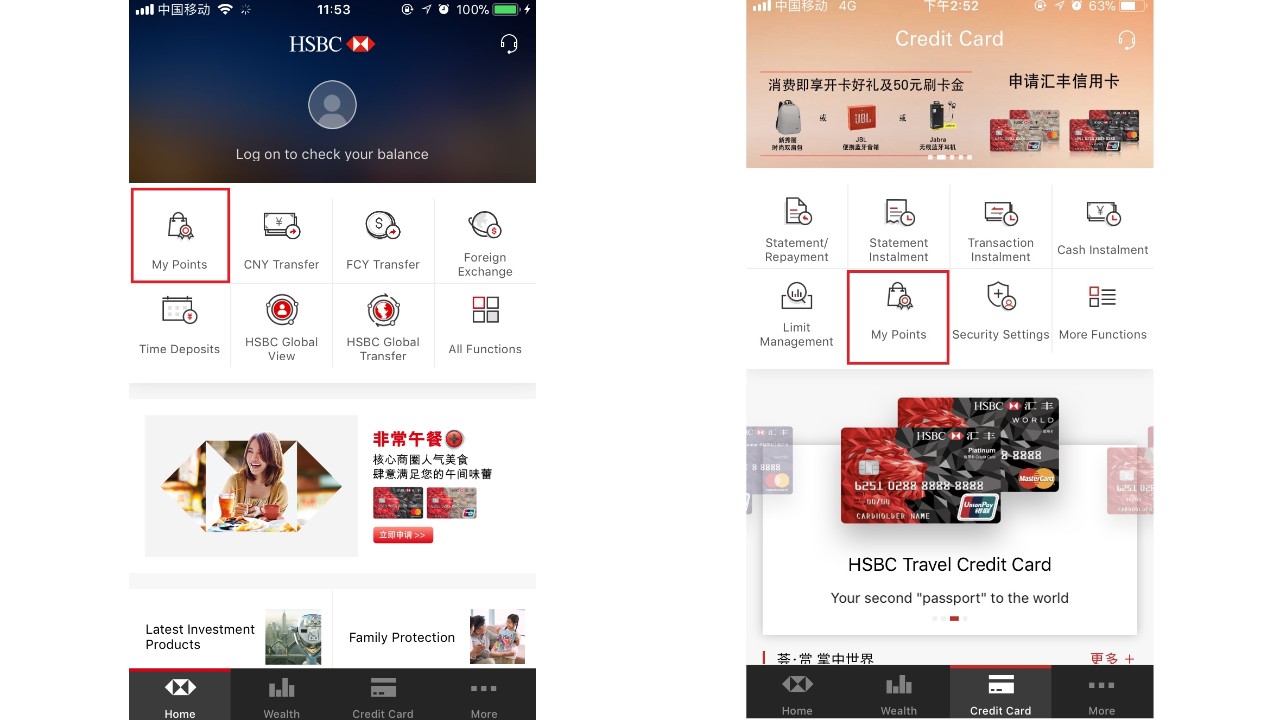 Track home mortgage loan application process
You can easily track your home mortgage loan application process on HSBC China mobile banking, understand application status in time & support you to make "property dream" early come true.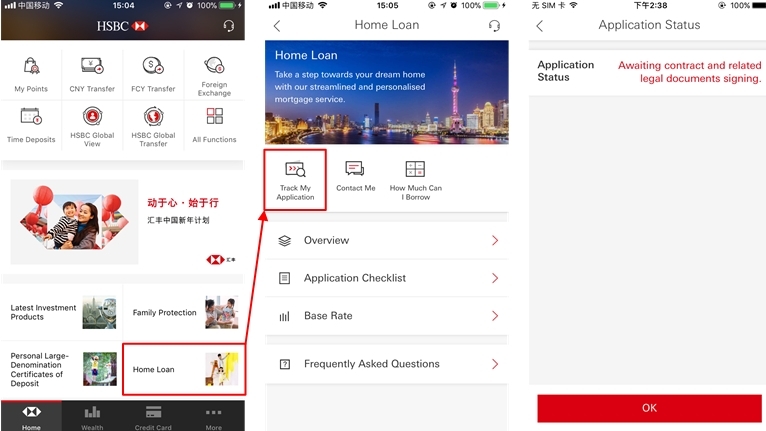 Facial recognition
If you would like to add new payee account on mobile banking, now you can use facial recognition to complete safety verification instead of using token. Combining with recently released feature " verifying by SMS verification code" feature (see below) , you can go through the whole transfer process, adding new payee account and transferring RMB, without using token if the daily accumulated transfer amount is no higher than RMB50,000.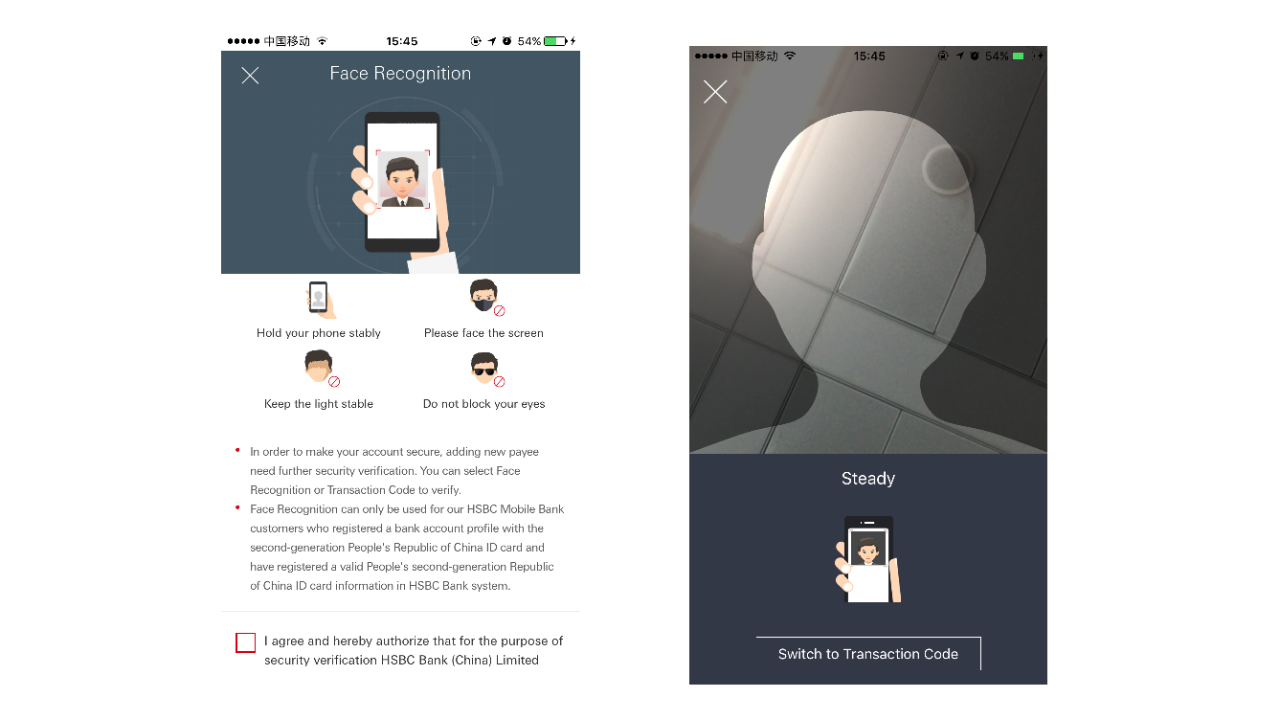 3rd party payment with password & SMS as authentication for small amount transfers.
On our mobile banking, if you want to transfer RMB to other people and the daily accumulated amount is no higher than RMB50,000, you can use "log-on password" along with "SMS verification code" as authentication. If your RMB daily accumulated transfer amount is higher than RMB50,000, you still need your token to complete the transfers.

HSBC Premier customers

HSBC Advance customers
Other customers
400-820-3090

Please dial China country code +86 if you are calling from overseas
Find us
Make an appointment
Leave your contact details with us and we'll be in touch in 1-2 business days

Download our APP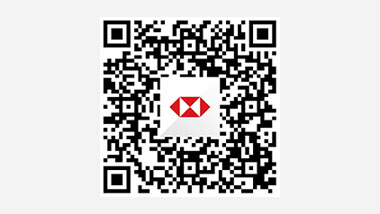 Notice
To protect the privacy of your accounts, we will set up a Phone Banking Account (PBN) and a Phone Banking Password (PIN) for you. You can only log on to the Phone Banking account by using the correct PBN and PIN codes. We keep you more safe and secure on your Phone Banking experience.

Frequently asked questions
How can I download the Mobile Banking app?
How can I use the Mobile Banking app?
How do I register for Personal Internet Banking?
Disclaimer
Apple, the Apple logo, and iPhone are trademarks of Apple Inc, registered in the US and other countries. App Store is a service mark of Apple Inc.
Baidu APP is a trademark of Baidu Inc.
*You will leave hsbc.com.cn by clicking non-HSBC links. Those links may allow you to access other websites. Please read the linked websites' terms and conditions. HSBC has no control over non-HSBC websites and is not liable for your use of them.