HSBC China Mobile Banking helps you manage your personal account anytime, anywhere. Mobile Banking offers improved user experience, a variety of RMB/foreign currency transfer and remittance services, HSBC Global View and Global Transfer, investment and financial management, credit card services and other functions. It is your professional, safe and convenient financial assistant.

Download our APP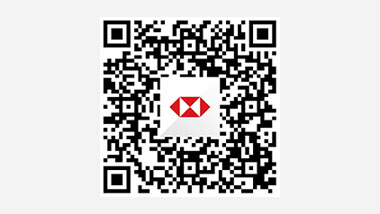 Feature highlights
Local and foreign currency transfers and remittance
New window
Interbank RMB transfer in real time for small amounts with free of charge. No restriction on weekend and holidays
Use facial recognition to complete safety verification and add new payee account
Enjoy global transfer and achieve real-time foreign currency cross-border transfers between your accounts.
Investment and wealth management
New window
Structured Products have diversified structure for investment return. Explore sound investment plans for your demands.
QDII provides open-ended Offshore Funds/QDII Overseas Bonds across various asset classes, regions and currencies to capture global opportunities.
Wealth dashboard clearly presents real-time income from investment and changes on assets.
Foreign Exchange services
New window
Use real-time foreign exchange, and provide Foreign Exchange solutions with competitive exchange rates. Applying foreign exchange on digital channels can enjoy extra discount.

Online smart agent – Xiao Feng
If you have any questions or want to know more about our services and products, you can contact our smart agent "Xiao Feng". It will provide 7x24 online services for you.

Download our HSBC China mobile banking APP to enjoy the following services!

Facial recognition
If you'd like to add a new payee account to your mobile banking app, you can use facial recognition to complete the safety verification process without using your Security Device. You'll also be able to make transfers totalling up to RMB50,000 per day.
After reading and acknowledging the facial recognition authorisation letter, simply follow the on-screen instructions for verification, and you'll receive a one-time password (OTP) via SMS (see below) to complete the whole process.
To use facial recognition, position your face in front of your device and make sure there isn't anything covering the camera and your face.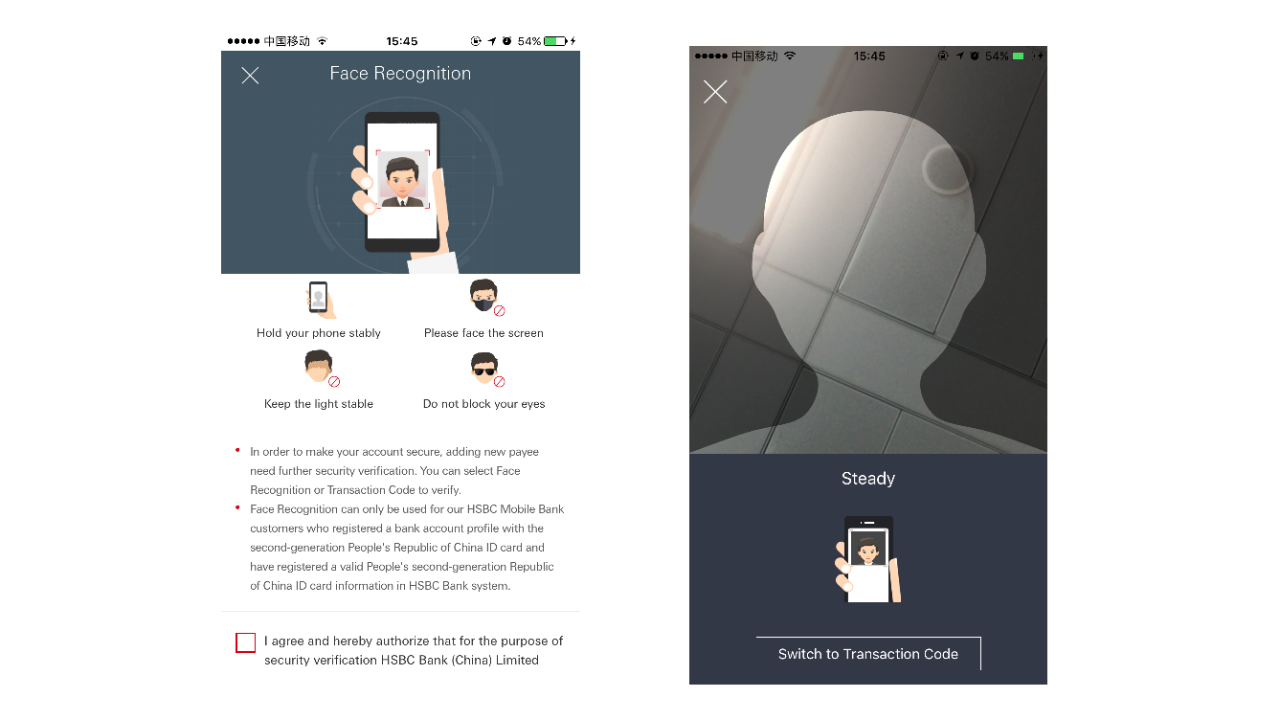 3rd party payment with password & SMS as authentication for small amount transfers.
On our mobile banking, if you want to transfer RMB to other people and the daily accumulated amount is no higher than RMB50,000, you can use "log-on password" along with "SMS verification code" as authentication. If your RMB daily accumulated transfer amount is higher than RMB50,000, you still need your token to complete the transfers.

Basic account services
Logon HSBC mobile banking and enjoy below account services, details please refer to the information on each service page:
Card replacement (debit cards that have been damaged or reported for loss)
Upgrade qualified Advance account to Premier account
Book We Doctor health management services on Health Hub (exclusive to Premier Family account holders)
Managing your payees
To manage your payees, you can log on to the HSBC China Mobile Banking app and tap on 'Home', followed by 'Quick actions', 'CNY transfers', 'Transfer settings' and select the 'My payee' option.
Make RMB transfers with your mobile phone number
Thanks to the new feature in EBPS, HSBC China mobile banking now supports the mobile phone number RMB transfer in a safe, stable, and effective way. You'll only need the mobile phone number and the name registered with the bank to either make payment or receive money. You don't need to type in long account or card numbers that are difficult to remember.
Users can arrange for money transfers using their mobile phone numbers across all bank accounts registered for this function ( on the condition that the account holding banks support this function).
Only Mainland China residents and Mainland China phone numbers will be able to collect money using a registered mobile phone number. The HSBC junior account does not support money transfers and collections using mobile phone numbers.
The daily transfer limit is set at RMB10, 000, and this amount will be shared with the daily transfer limit to third party.
To receive money via mobile numbers, you can log on to the HSBC China Mobile Banking app, go to 'Home' page, look for 'Quick actions', select 'Transfer settings', then choose 'Mobile number receiving settings'.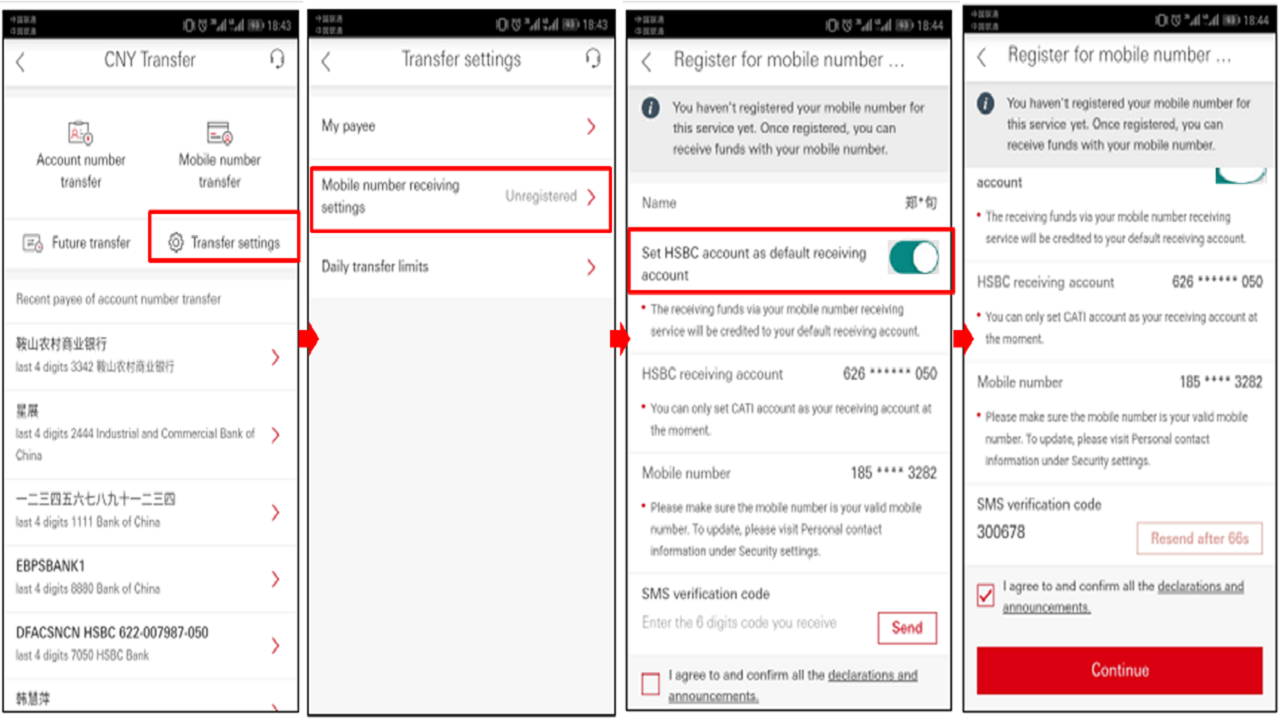 To make mobile number transfer: Log On HSBC China Mobile Phone Banking-> CNY Transfer->Mobile Number Transfer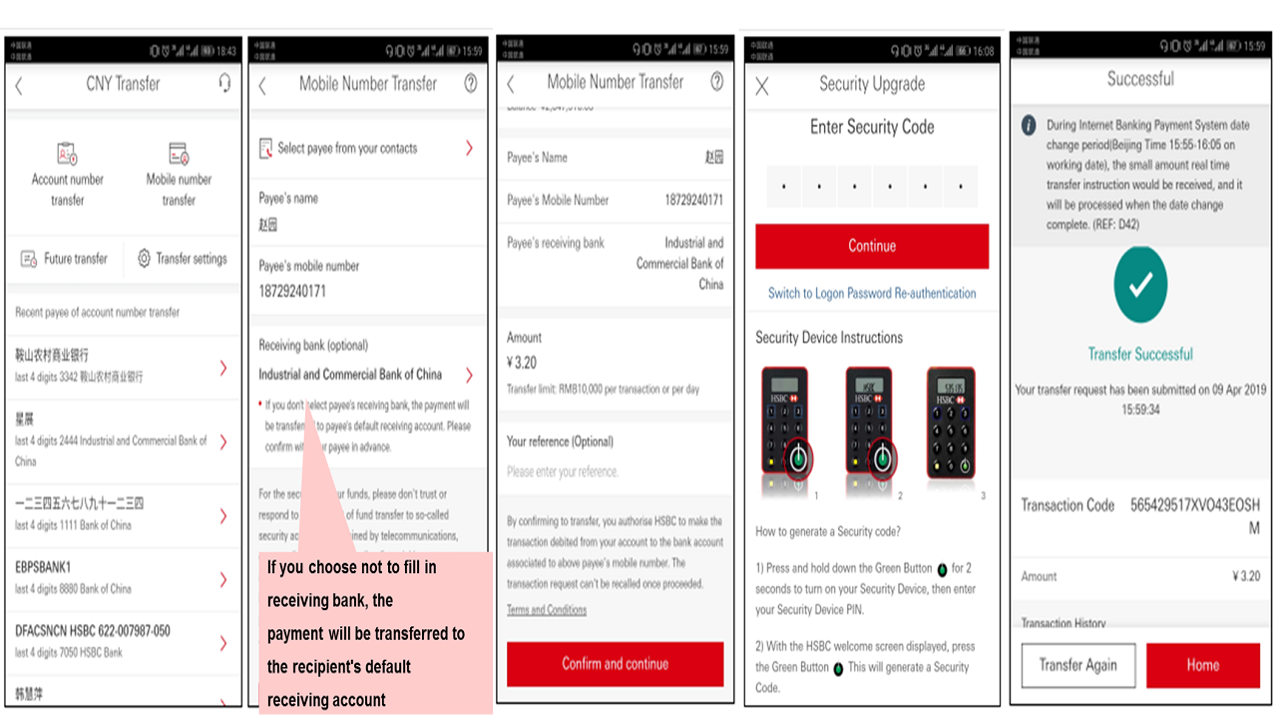 Manage your daily transfer limits
Besides using online banking, you can now log on to the HSBC China Mobile Banking app to manage your daily transfer limits. You'll be able to choose the 'Transfers to my HSBC accounts' and /or 'Transfer to third party predesignated/non-predesignated payee' options.
To manage your daily transfer limits, go to the 'Me' page, look for 'Card & Account settings' to choose one account you need to adjust the transfer limit, and select 'Daily Transfer Limits Setting' to set up the limit.
Note that you can only lower transfer limits via mobile banking. If you need to increase transfer limits, you'll need to head to the nearest branch.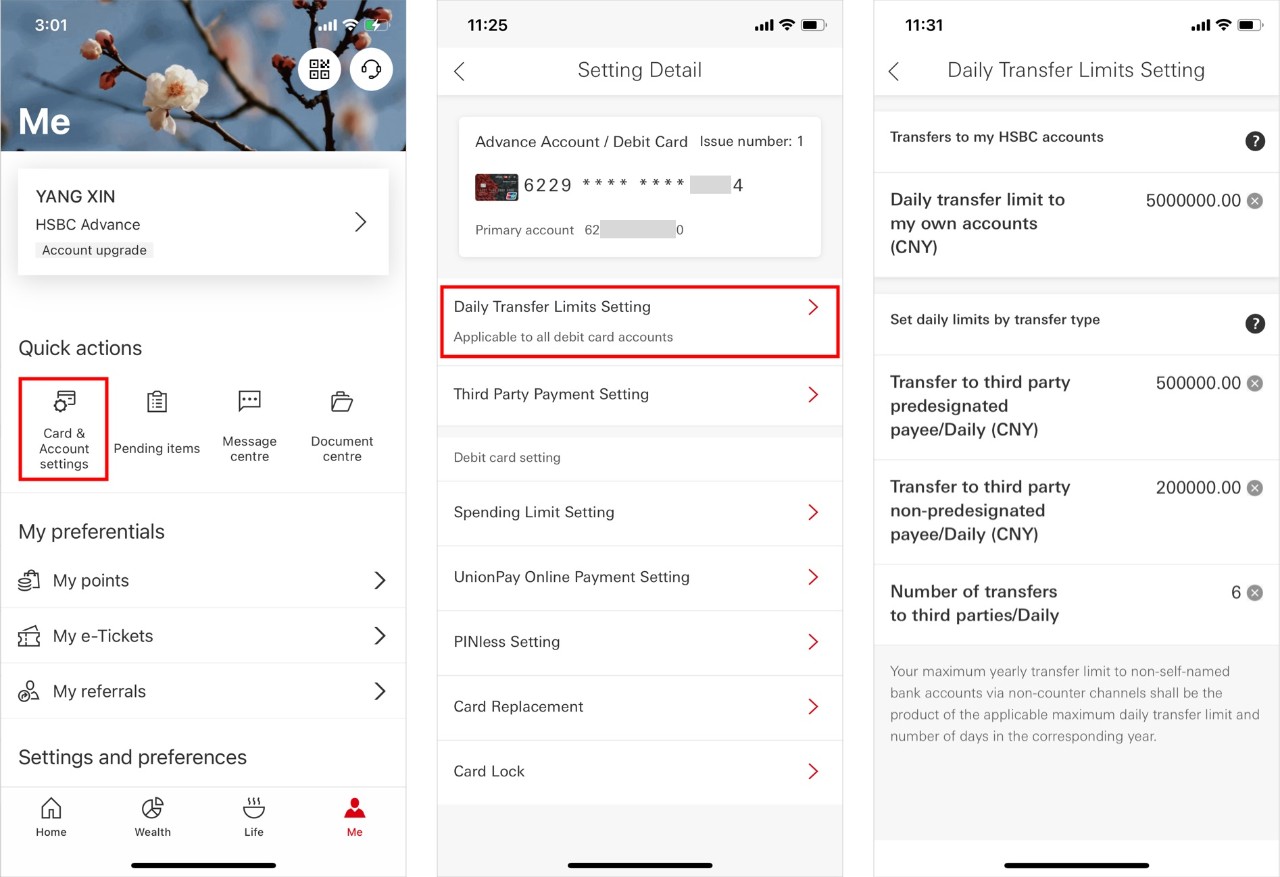 View and redeem your debit card points
If you are a debit card customer, you can earn HSBC Community Reward Points by using your card or participating in activities, and redeem points for a variety of gifts and benefits.
If you have both debit and credit cards, you can earn 2 types of points, and redeem both set of points at the same time to enjoy more fabulous gifts and offers (terms and conditions apply).
You can go to any of these 3 pages - 'Home', 'Credit cards' or 'Me' - , and select 'My points' to track the status of your points, and learn more about our latest offers and exclusive privileges.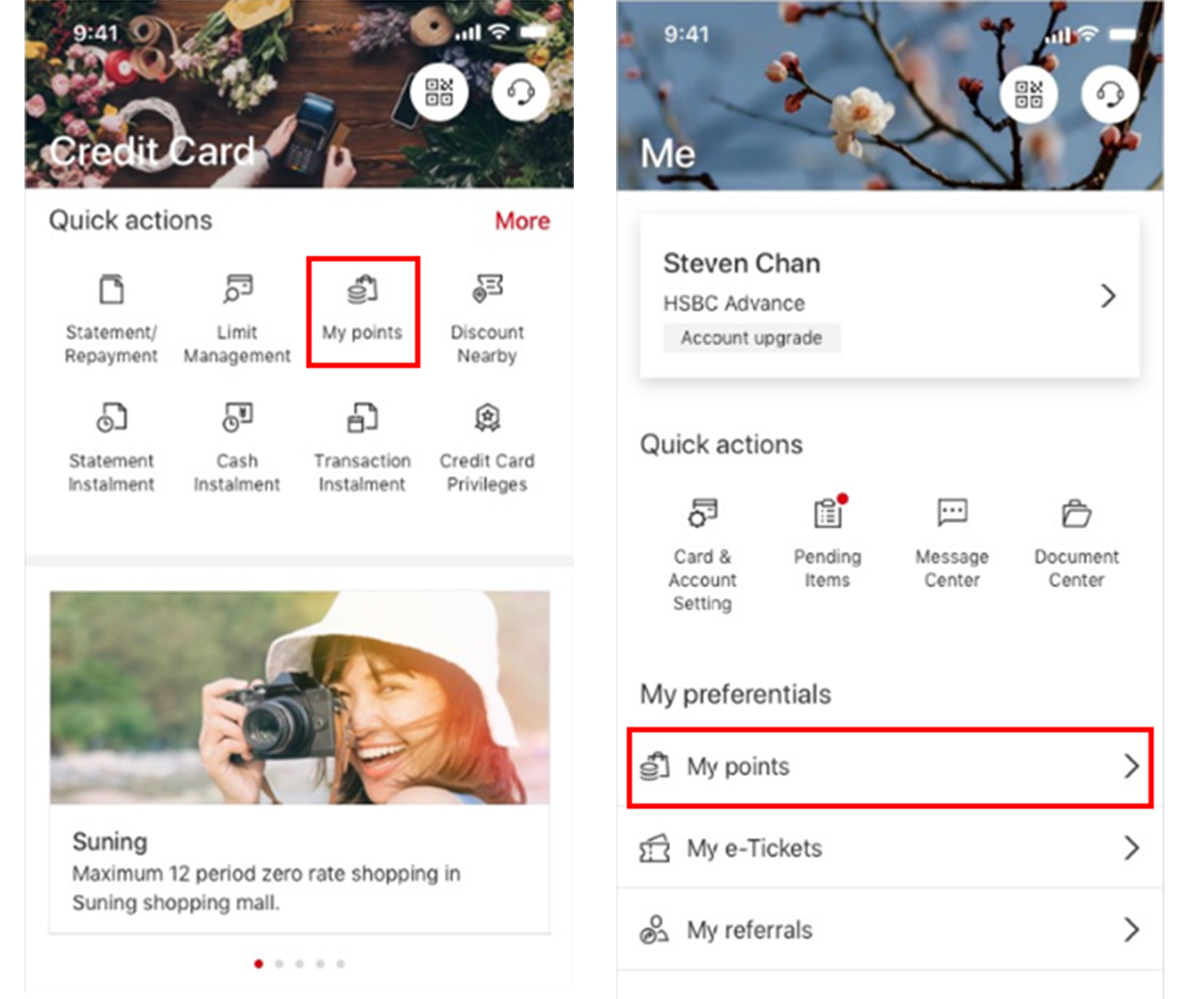 Track home mortgage loan application process
You can easily track your home mortgage loan application process on HSBC China mobile banking, understand application status in time & support you to make "property dream" early come true.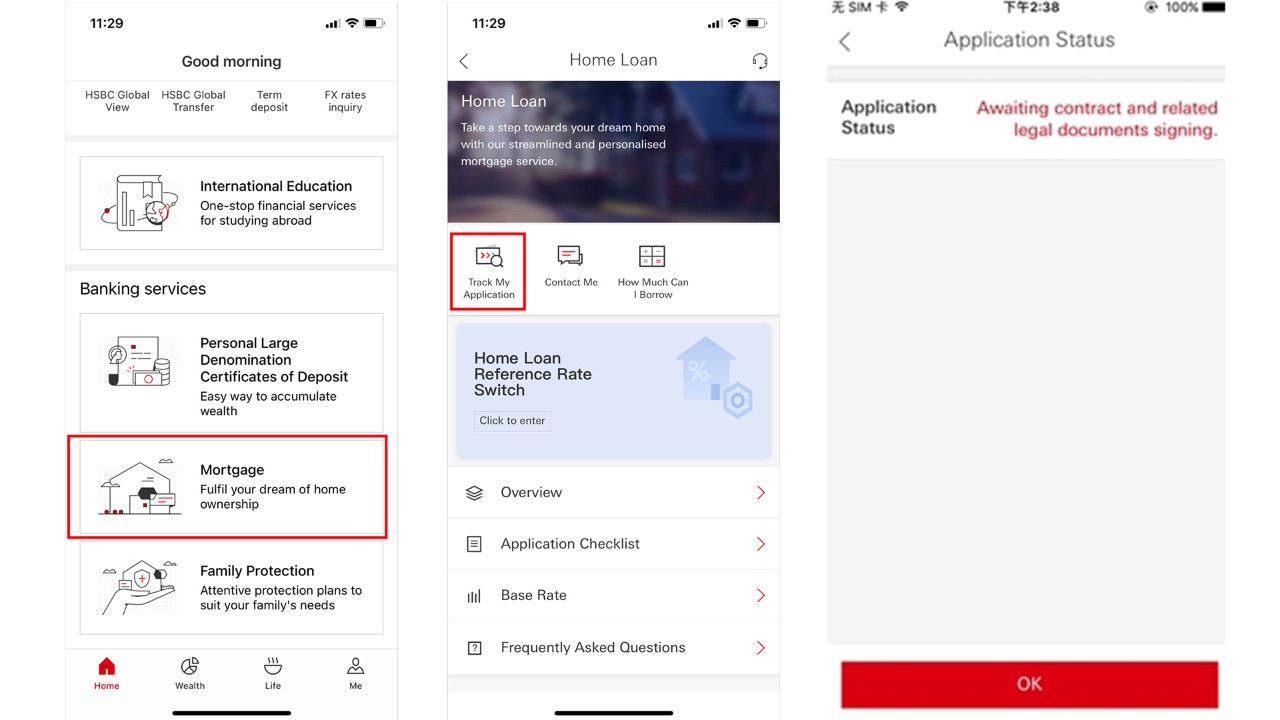 Online service functions - smart agent Xiao Feng and live chat
If you have any questions or wish to know more about our products and services, click on the online customer service icon at the top right of our service landing pages, or select 'Customer service' under the 'Me' page.
Our smart agent Xiao Feng will provide 24/7 online services for you. The live chat function, which connects you with our professional staff, will also be available from 9am to 9pm every day, where we'll assist you with services related to our offers, account enquires, branch appointments, appointments for cash withdrawals (large amount / foreign currency) over the counter, lost cards, credit card points and many more.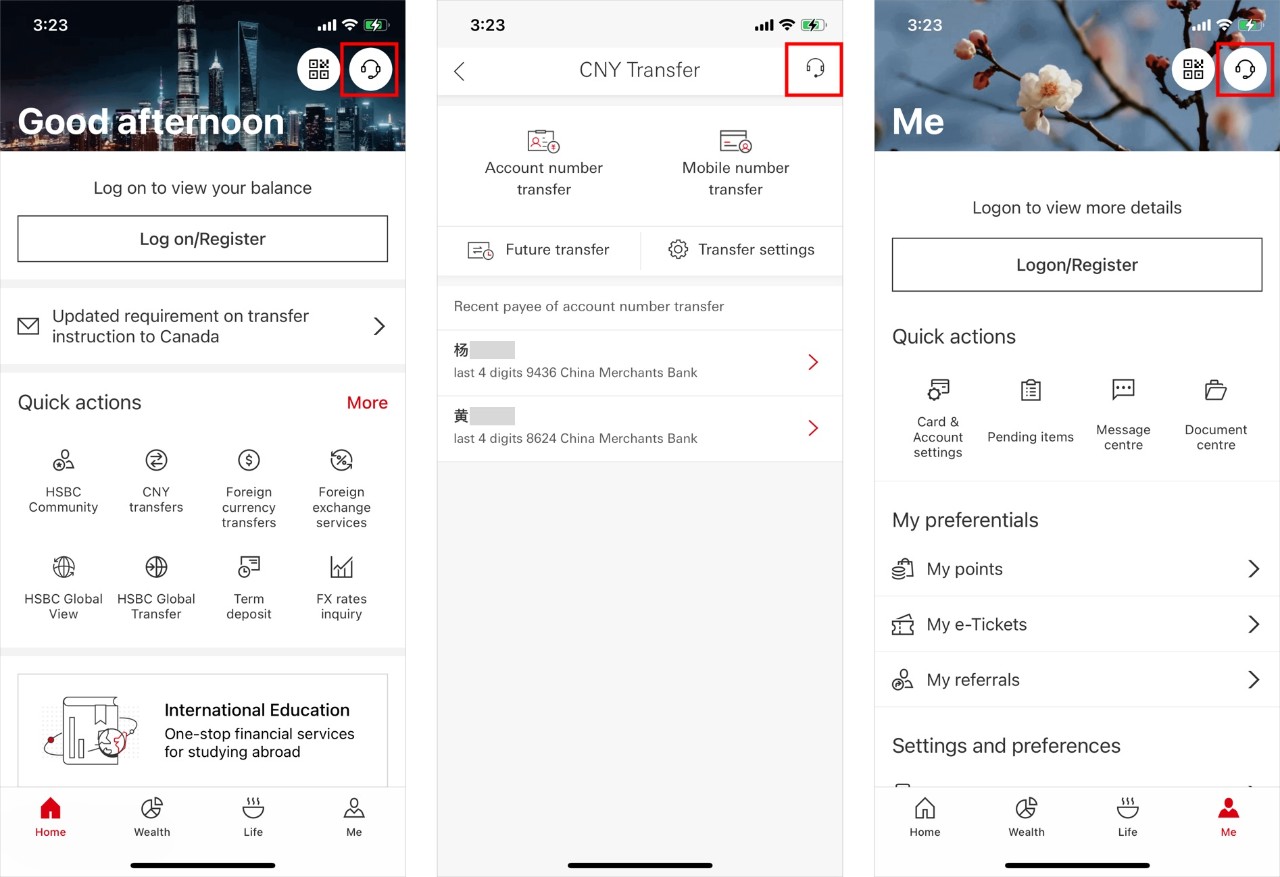 Blocking your debit card
If your debit card is lost or stolen, you can block it any time via mobile banking to protect yourself against unauthorised transactions. To do that, log on to the HSBC China Mobile Banking app, go to the 'Me' page and choose the card you wish to block using the 'Card & Account settings' option. The selected card transactions will temporarily be blocked within the time period you've set.

*The card blocking function only applies to your current debit card, and will not affect any of your accounts.

You can choose to lock 4 kinds of transactions : Payments with card, payments without card, ATM transactions, and overseas transactions
If you wish to unblock your card, go into settings to switch off the block function after completing an SMS verification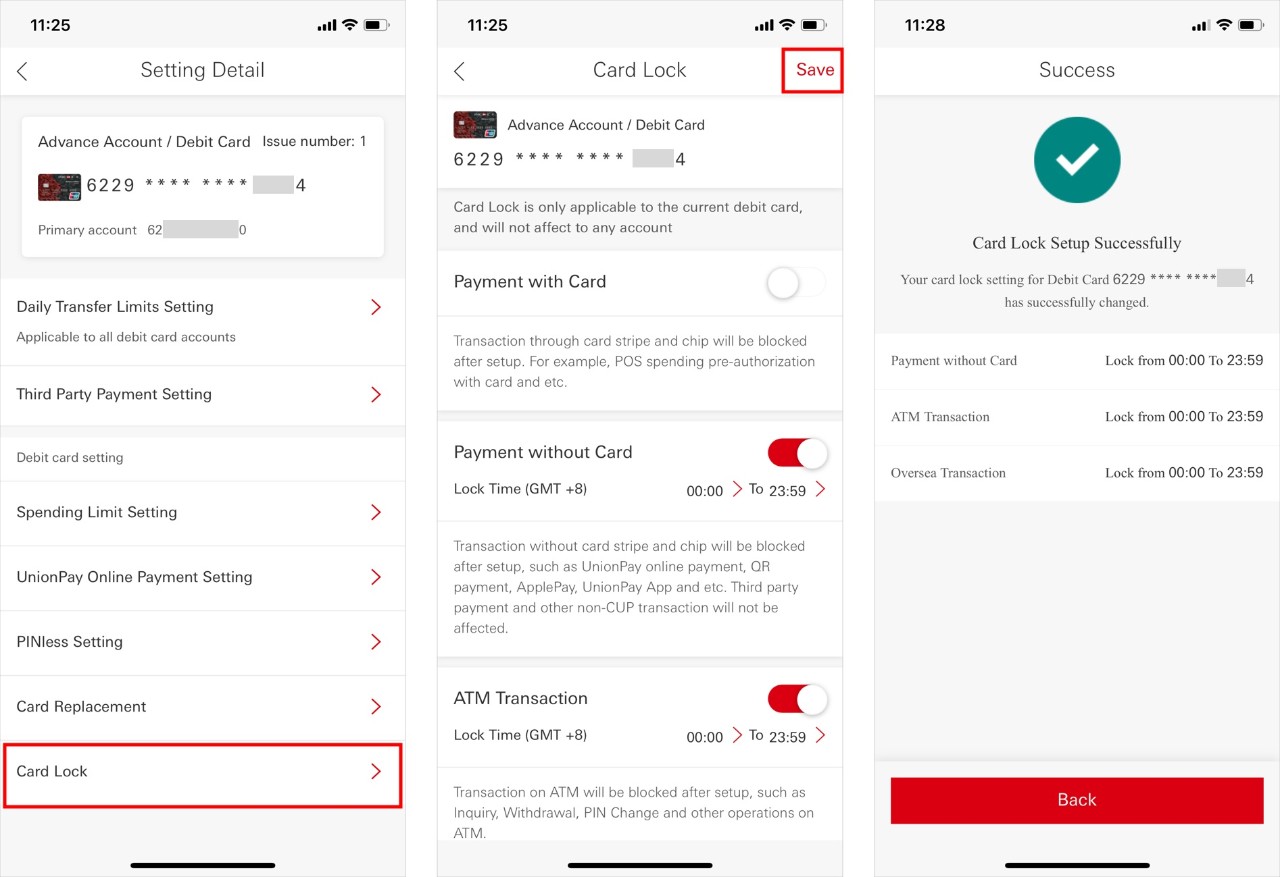 Online reactivation for dormant/inactive accounts
If you find your account is dormant or inactive, log on to the HSBC China Mobile Banking app and click on 'Quick actions' on the 'Home' screen, select 'More', then choose 'Local accounts' to reactivate the relevant account online*.
* If you're facing one of the following situations, you'll need to visit one of our branches with your passport or ID card to reactivate your accounts. Otherwise, you can also reactivate your accounts conveniently online.

You don't have any active account with us, but you're holding at least one dormant account, and you've changed your mobile phone number within the last 60 days
All accounts you are holding are inactive accounts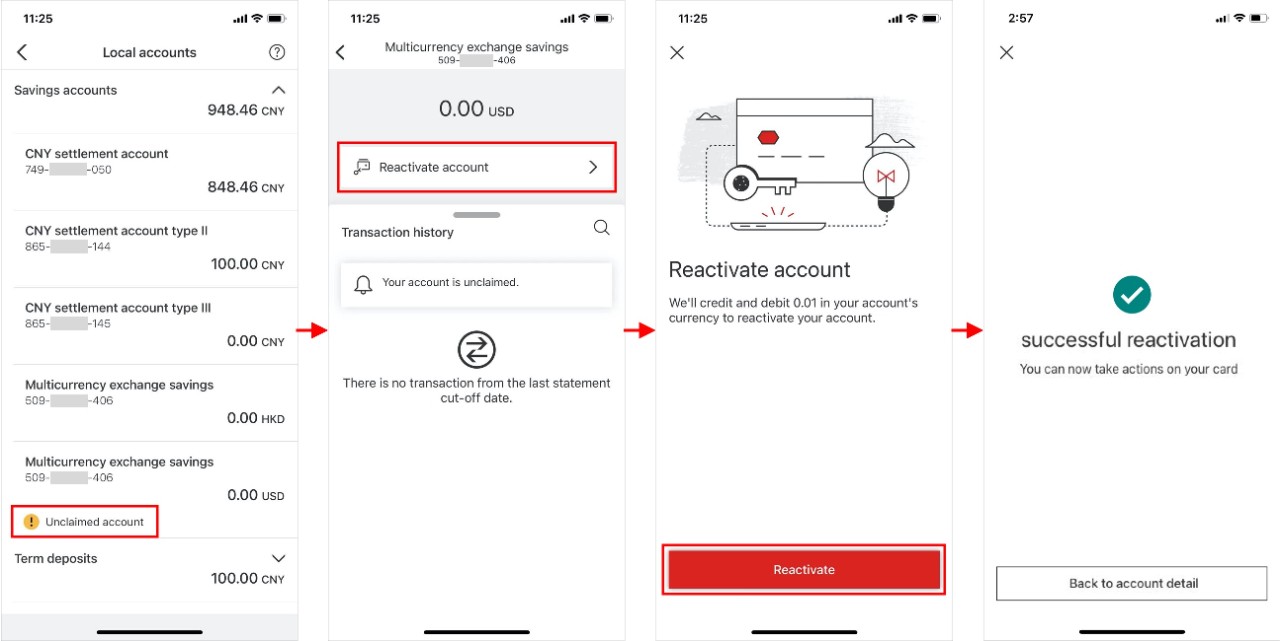 Security tips
Security tips for using HSBC Mobile Banking. For more information on HSBC Personal Internet Banking/Mobile Banking security, please visit the online security section.
Do not store your HSBC Personal Internet Banking/HSBC Mobile Banking username and password on your mobile phone or tablet.
Install and update the latest anti-virus and anti-spyware software regularly on your mobile devices, whenever available.
Avoid sharing your device with others and use your own mobile phone or tablet to log on.
Do not leave your mobile phone or tablet unattended after logging on to HSBC Personal Internet Banking or HSBC Mobile Banking. Always log off properly when you are finished.
Wipe data on your old phone or tablet before you donate, resell or recycle it.
If you lose your mobile phone or tablet, please tell us immediately. You should also review your account transaction history through HSBC Personal Internet Banking. If there are any suspicious transactions, please contact customer services and report to us immediately. You should also enable remote deletion to discard related information.
Set up auto-lock and passcode lock to prevent unauthorised access to your device.
When using Wi-Fi, only use trusted Wi-Fi networks or service providers and enable security protection such as Wi-Fi Protected Access (WPA), if possible.
Disable Bluetooth if you are not using it, or set the smartphone or tablet to non-discovery mode.
Use the default browsers originally provided on your device rather than newly installed browsers downloaded from other sources.
Do not use any jailbroken devices which may have security loopholes to log on to HSBC Personal Internet Banking.
Do not install an application on your mobile device unless it is from a trusted source. Understand the permissions of a mobile application before you install it. Do not use untrusted customised virtual keyboards.
Install updates and patches to your mobile phone or tablet regularly, including upgrades/updates to your OS and other mobile applications. Enable data encryption on your device if possible.
Always type in HSBC's website address directly into the browser. If you use the HSBC Mobile Banking app, only download it from official app stores.
Our HSBC Personal Internet Banking website uses Extended Validation SSL Certificate. In the Safari browser, a padlock and the bank name will appear in green at the top of the browser (the padlock and the bank name may be hidden on some screens and they will show up when you scroll down the screen manually).
Other banking services
WeChat
New window
Follow the HSBC China WeChat Service Account for account enquiries, time deposits and transfers. See the latest HSBC activities and contact us anytime, anywhere.

Frequently asked questions
How can I download the Mobile Banking app?
How can I use the Mobile Banking app?
How do I register for Personal Internet Banking?
Disclaimer
Apple, the Apple logo, and iPhone are trademarks of Apple Inc, registered in the US and other countries. App Store is a service mark of Apple Inc.
Baidu APP is a trademark of Baidu Inc.
*You will leave hsbc.com.cn by clicking non-HSBC links. Those links may allow you to access other websites. Please read the linked websites' terms and conditions. HSBC has no control over non-HSBC websites and is not liable for your use of them.