HSBC China WeChat Service Account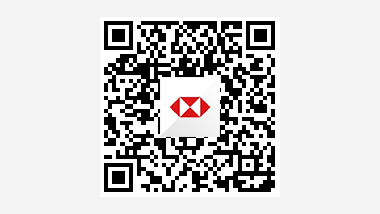 1. Account inquiries
You can see your real-time account balance and receive WeChat notification message when account balance is changed after verifying your HSBC RMB deposit account, debit card and/or credit card and linking your HSBC account with WeChat ID.

2. Online service – smart agent Xiao Feng & live chat
If you have any questions or want to know more about our products and services, please reply your question to our "HSBC China Service" WeChat account. Our smart agent "Xiao Feng" will provide 7*24 online services for you. Live chat with our professional staffs will also be available from 9 am. to 9 pm. everyday, providing services on hot offers, account inquires, branch appointment, cash appointment, card report loss, credit card points, etc.
3. Online reactivation for dormant/unclaimed account
To easily manage your HSBC China accounts, if your account is dormant or unclaimed, you can go to "My Accounts" page via WeChat Service Account to quickly reactivate selected dormant or unclaimed account with easy steps*.
* If you have one of following situations, you need to visit any branch with the passport or ID card to reactivate accounts. If not, you can enjoy convenient online reactivation.
You don't have any active account, but you are holding at least one dormant account. Also, you modified your phone number within last 60 days.
All accounts you are holding are unclaimed accounts.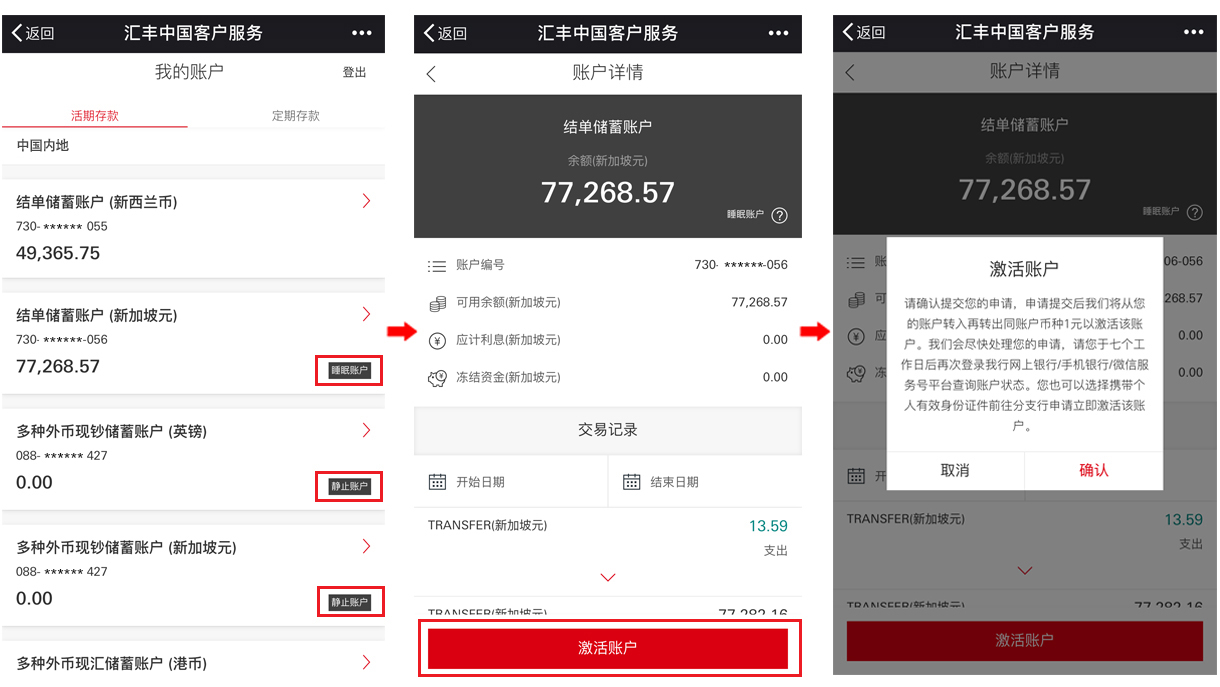 4. Transfers
It can support CNY transfer & foreign currency exchange. If you want to transfer RMB to other people and the daily accumulated amount is no higher than CNY 50,000, you can use "log-on password" along with "SMS verification code" as authentication to complete transfer.
You can also pay international institutions with quick and convenient way.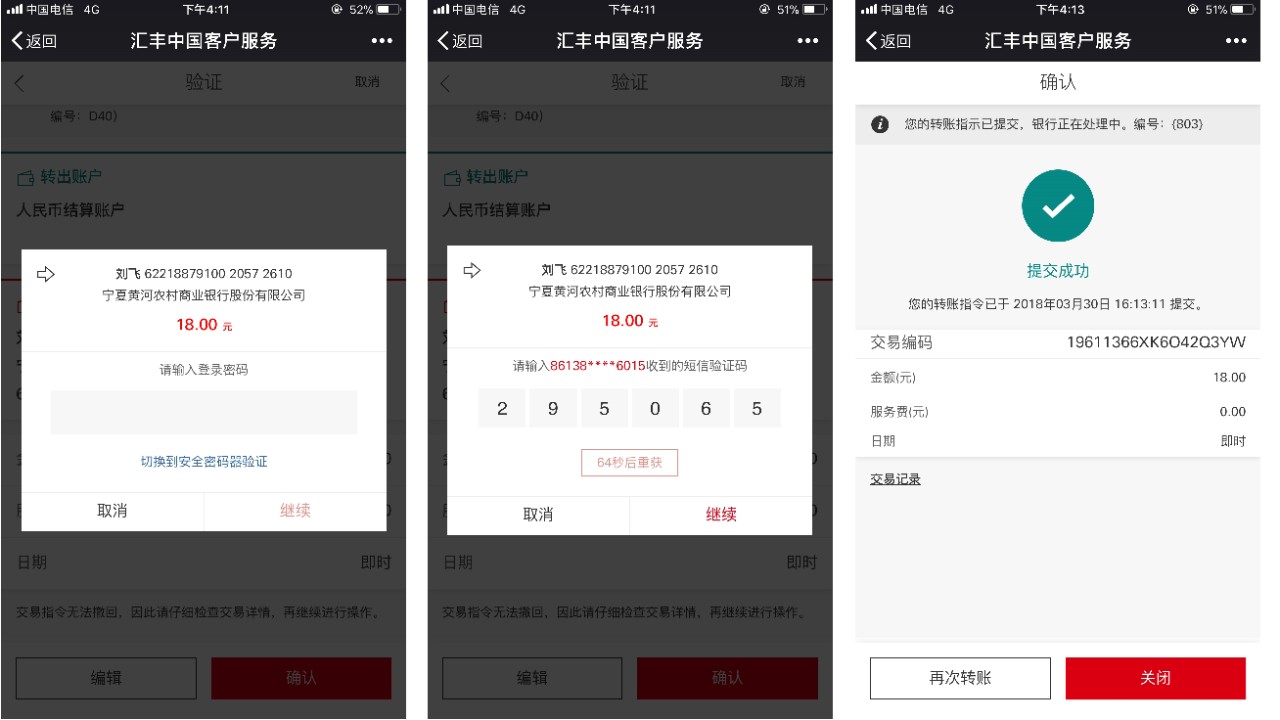 5. Interbank transfer in real time for small amount of money
HSBC China has joined in "Electronic Banking Payment System" and WeChat Service Account is now supporting real-time interbank transfer for small amounts in order to provide you more convenient transfer inward and outward services.Interbank CNY real-time transfer for no higher than CNY 50,000 will have free of charge and will not be restricted by weekend and holidays (except system or clearing maintenance).What's more, simplified transfer information allow you to select bank name directly from bank list (within the same "Electronic Banking Payment System"). When transferring inward, you can now input either HSBC China card number or account number to easily complete transfer request.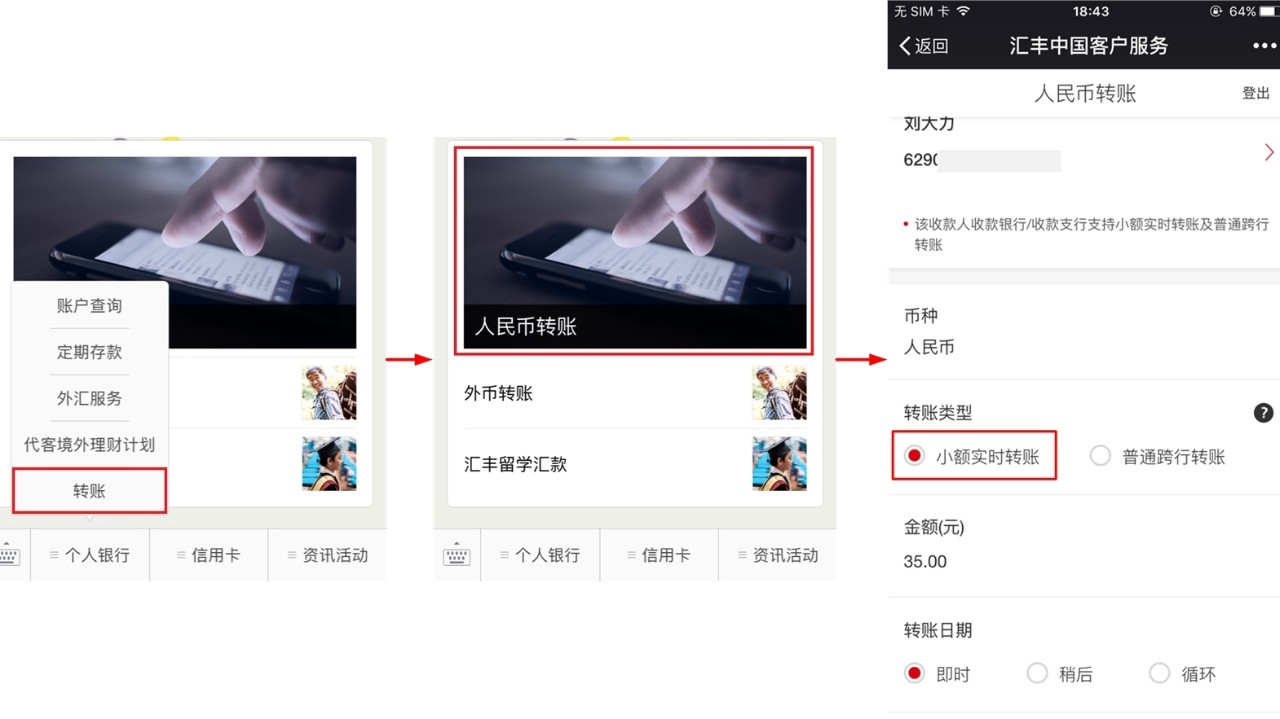 6. Time deposits
You can place a new term deposit or personal large-denomination certificates of deposit through WeChat Service Account.

7. Overseas investment plan
Overseas Investment Plan - QDII Offshore Fund is one of investment approaches, providing various kinds of financial investment products to domestic investors. You can search QDII Offshore Fund products, view details of products and purchase/transfer/redeem products on HSBC WeChat Service Account. You can also view products you hold and check transaction status.

8. Foreign exchange
HSBC WeChat Service Account provides 7*24 full-day services (except holidays in mainland China) for Foreign Exchange Business. Foreign Exchange Solutions has competitive exchange rates by using real-time foreign exchange. It supports up to 10 mainstream foreign currencies, including USD, EUR, HKD, JPY, GBP, AUD, etc.

9. View and redeem debit card points
If you are debit card customers, you can earn points by using debit card or participating activities. The points can be used to redeem gifts or get offers.
If you are holding both debit card and credit card, you can acquire 2 types of points. Both points can be used together to apply for more delicate gifts and offers according to redemption rules.
Click on "My HSBC" on the bottom menu and then click on "My Points" or click on "Points & Offers" belonging to "Credit Card" menu item to understand point changes and learn more about best offers.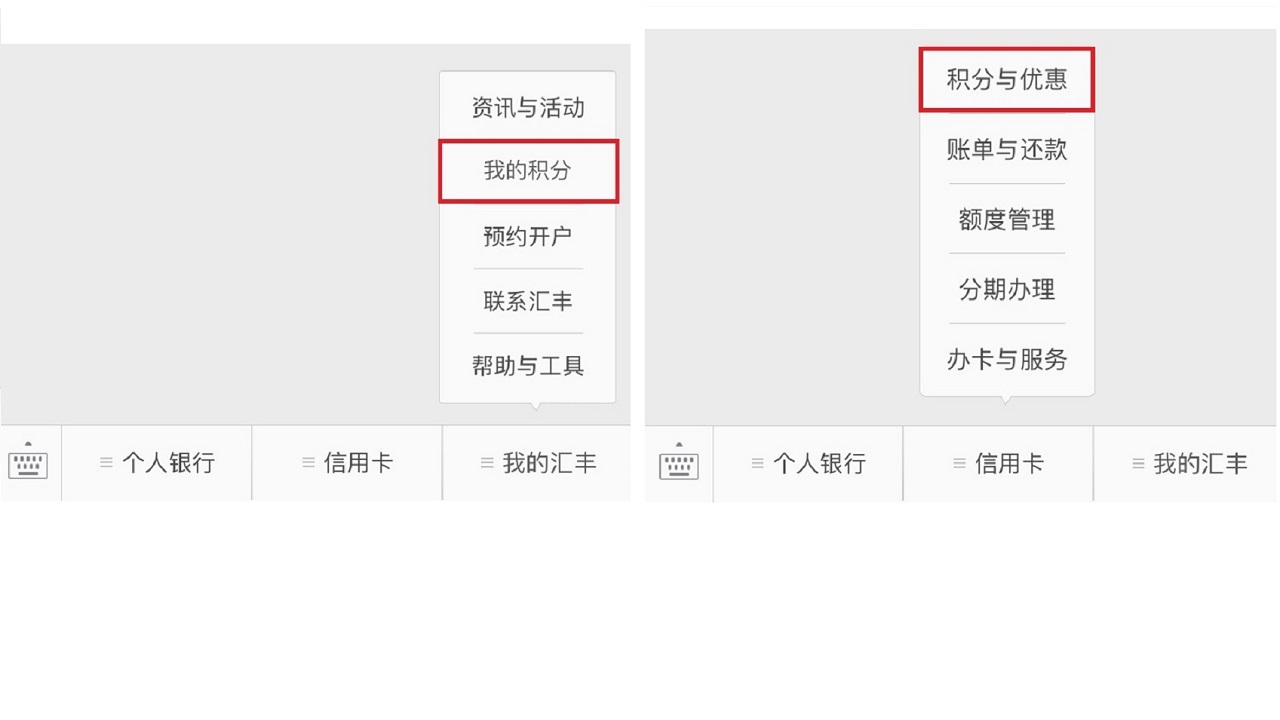 Banking & wealth management