Make your wealth last for generations
The fruition of your years of hard work is best shared with your loved ones. Plan ahead to allocate your accumulated wealth for yourself and your heirs. Through proper legacy planning, you will enjoy smart distribution of your wealth.

Practical pointers on legacy planning
Separate your estate from retirement funds

Many people may think that evenly distributing your remaining wealth is a good plan for transferring your wealth. However, there may be merits to separating your estate from your retirement funds.

The advantages are:

Ensure you have sufficient funds for retirement
Manage your retirement funds separately without worrying about consuming the wealth you set aside for your inheritance
An insurance policy might also serve as a legacy planning tool, further increasing the value of your estate while distributing a guaranteed sum to your designated family member(s)1 (see "Your Path")
Transfer of family business and assets

More and more people are accumulating their wealth by starting their own businesses and expect the next generation within the family to continue running it. In some cases, children aren't keen to take up the family business and may choose to pursue their own career.

When faced with a business and assets that cannot be divided, the estate may not be fairly distributed to your successors. There are circumstances when life insurance can help create more liquid assets to facilitate the distribution of your estate as you wish. The guaranteed sum from the life insurance policy may also be distributed sooner to meet emergency needs.

An Estate Inventory

Real estate

Securities (stocks,bonds,and unit trusts)

Bank accounts

Collectibles

Life insurance policies

Business

All tangible personal property (e.g. cars,boats)

Pension funds

Other asset

Your asset may cover a variety of categories, some of which cannot be easily divided among your heirs.

The beauty of legacy planning
Scenario

Mr. and Mrs. Chan's total estate has assets worth RMB 20million with RMB 8million in their business. They would like to enjoy their retirement and ensure their children receive an equal share of their estate.
Without Legacy Planning
Mr. and Mrs. Chan have to ensure they spend no more than RMB 8million during their retirement so that RMB 12million will be available in their will or business for their children's inheritance.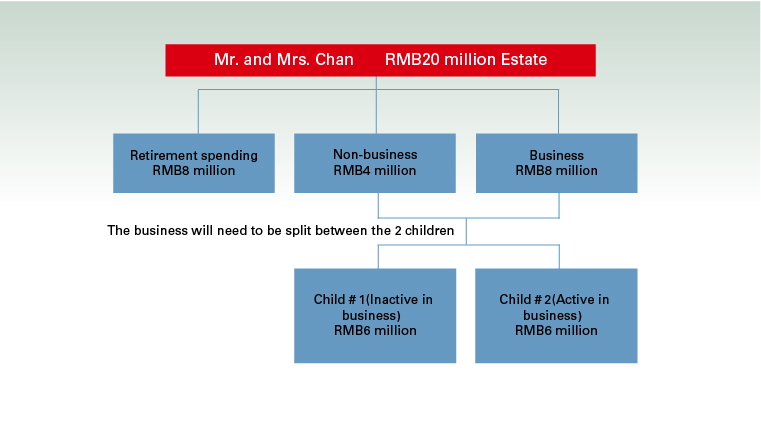 With Legacy Planning
An RMB 8million life insurance policy can be bought by either Mr. or Mrs. Chan assuming RMB 3million is to be paid as a single premium. This will make RMB 9million available for Mr. and Mrs. Chan's retirement.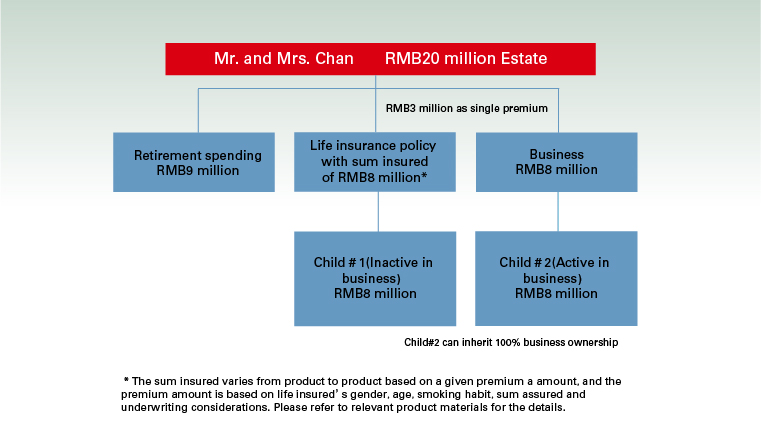 * The sum assumed varies from product to product based on a given premium amount and the premium amount is based on life insured's gender, age, smoking habit, sum assured and underwriting considerations. Please refer to relevant product materials for the details.
Benefits:
Provides long term financial security: protects yourself and your heirs financially and sustainably
Maximises your liquidity with insurance planning: helps to ensure liquidity during retirement
Surplus can be transferred to your heirs or for charity purposes
How to select the products you need to help transfer your wealth

Figuring out your needs in wealth transfer will help you select the right products. Your needs in wealth transfer may include:
| Preserve your assets | You wish to transfer your wealth in its entirety to your heirs. |
| --- | --- |
| Help distribute wealth | You wish to pass on your wealth in accordance with your wishes in the event that the estate contains assets that may be less liquid than others. |
| Distribute assets according to your wish | You want to have control and privacy in your wealth transfer plan. |
In all our journeys through life, we will encounter many challenges and many opportunities. We hope this little guide will prove to be an opportunity that will set on the path to developing the plans you need to achieve your personal goals in life.
The key to success lies in action. We encourage you to take the first important steps in your financial journey as soon as possible. The easiest and most productive step is to contact your Relationship Manager who can help start formulating a plan suited to your needs, discuss your needs and explain our financial products in more detail.
More products and information
HSBC Insights
This link will open in a new window
In today's fast-paced financial world, the only way to stay ahead is to be on top of current market events. Tap into our unique market insights and investment analysis to stay informed about the latest trends and regional news with just a few clicks.

Get started
By phone
For general inquiry (RBWM only)
Please dial the country code of mainland China +86 if you are calling from overseas, Hong Kong SAR, Macau SAR, or Taiwan

Frequently asked questions
What are the basic rules to making investments?
When should I start financial planning for my future? How should I approach financial planning?
Where can I get more information about investment products?
Disclaimer
Although the above information is carefully written, the Bank does not warrant, state or guarantee the accuracy or completeness of the above information. The above information is not and should not be regarded as an offer or purchase invitation for any financial product, nor should it be viewed as an investment proposal.