Preparation and protection
Health Facts
Currently the three major fatal diseases in China are cerebrovascular disease (stroke), heart disease and cancer1. A global medical survey2 also indicates that cardiovascular disease and cancer are the major reasons for medical claims today and are expected to continue over the next five years.
In China, cerebrovascular disease is now ranked first in fatal diseases, exceeding heart disease and cancer. There are 2.5million new cases of strokes every year in China and among over 7million existing cerebrovascular disease patients, 1.5million of them die each year due to stroke3.
On the other hand, we are witnessing a growing number of young cancer patients and an upwards trend in cancer morbidity and mortality in China. According to the "2012 Chinese Cancer Registry Annual Report", there are 3.12million new tumor cases in China every year with 8,550 cases per day on average, among which six people are diagnosed cancer every minute.
Cost of critical illness
While many critical illnesses nowadays may not necessarily be the death sentence they once were, their effects can still be brutal both emotionally and financially. Please refer to the below estimated treatment costs for these diseases:

| Category | Approximate costs (RMB'000) |
| --- | --- |
| Cancer | 120-500 |
| Cerebral apoplexy and sequela | 100-400 |
| Acute myocardial infarction | 100-300 |
| Major organ transplantation and hematopoietic stem cell transplantation | 200-500 |
| Operation on coronary artery | 100-300 |
Note: The approximate costs shown are for reference only and will vary from case to case.

Source: Insurance Association of China
Loss of income
Medical costs alone can be hard enough to cope with but don't underestimate the financial impact of loss of income as a result of contracting a critical illness. There are several scenarios that could lead to financial problems:
Inability to work during treatment and recovery periods which may take years
Inability to meet the demands of your job even after recovering from the illness
Inability to work at all due to poor health, causing you to end your career prematurely
The disastrous effects of critical illness highlight the fundamental importance of protecting your family.

1 Source: The Ministry of Health, PRC
2 Source: Towers Watson 2011 Global Medical Trends Survey
3 Source: The Ministry of Health, PRC
A good family protection plan needs to be flexible enough to meet your evolving needs and enable you to continue fulfilling your responsibilities without worry.

Evolving insurance needs at different stages of life
Your protection needs to change as you progress through the different stages of life. With increasing responsibilities it is important to ensure that unexpected illness doesn't get in the way of shaping your family's dreams.
If you do not have protection, an unexpected event could cost you dearly by affecting the living standard of your family, the momentum of your wealth accumulation or the successful attainment of your child's educational goals and your retirement goals.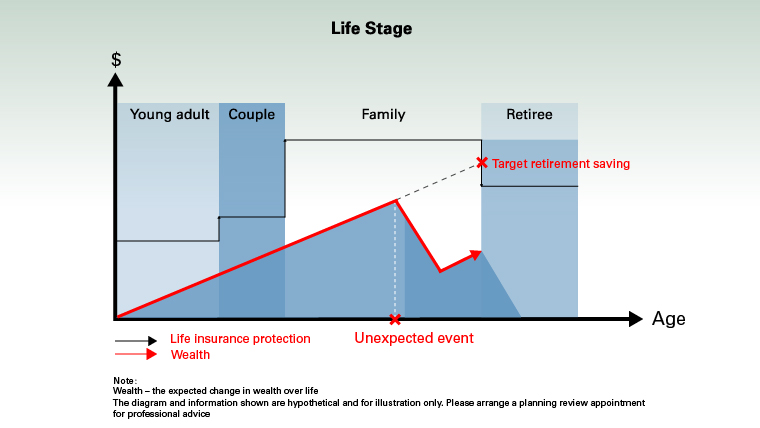 It is clear that the earlier you start protecting yourself and your family, the less you will have to worry about their well-being. Starting early also enables you to take advantage of lower premiums and more comprehensive coverage while you are in good health. You can enjoy these lower premiums for the rest of your policy term across different life stages.

Figuring out your needs in family protection will help you select the right products. Your family protection needs may include:

| Protect against life's uncertainties | You need your family to maintain their living standard should misfortune strike. |
| --- | --- |
| Protect your wealth | You need your plan to provide adequate protection so you and your family are not impacted financially should an unfortunate event occur. |
| Provide lifelong cover | You need to be protected through different life stages. |
| Extra protection | You need your plan to provide extra protection to keep your family secure. |
| Flexibility | You will need flexible payment and ways to meet your needs at different times. |
More products and information
HSBC Insights
This link will open in a new window
In today's fast-paced financial world, the only way to stay ahead is to be on top of current market events. Tap into our unique market insights and investment analysis to stay informed about the latest trends and regional news with just a few clicks.

Get started
By phone
For general inquiry (RBWM only)
400-820-3090
Please dial the country code of mainland China +86 if you are calling from overseas, Hong Kong SAR, Macau SAR, or Taiwan

Frequently asked questions
What are the basic rules to making investments?
When should I start financial planning for my future? How should I approach financial planning?
Where can I get more information about investment products?
Disclaimer
Although the above information is carefully written, the Bank does not warrant, state or guarantee the accuracy or completeness of the above information. The above information is not and should not be regarded as an offer or purchase invitation for any financial product, nor should it be viewed as an investment proposal.