What is a Security Device?
A Security Device is a small and portable electronic device about the size of half of a credit card. You'll need it to generate a one-time Security Code or Transaction Data Signing code when you log on to or make transactions via HSBC China's digital channels (Online Banking, Mobile Banking and WeChat Service Account).

To activate your Security Device, you'll need to set up a 6-digit PIN first, which will be used to start the device and protect it from potential security threats.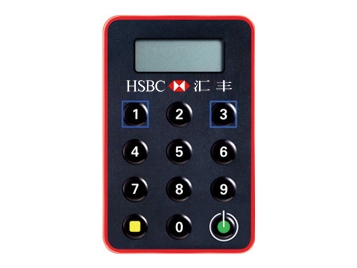 Get started with your Security Device
We recommend you apply for a Security Device when you register for online banking via a desktop browser. We'll usually send it within 3 working days to the address you have registered with us.
If you prefer to use the HSBC China Mobile Banking app or our WeChat Service Account to register for online banking, you can call our customer service hotline on 95366 to get one.

How do I get a Security Device?
How do I activate my new Security Device?
Using your Security Device
Forgotten your Security Device PIN?
Your Security Device is lost, stolen or damaged
What should I do when the battery of my Security Device is about to run out?
What should I do if my Security Device is locked?
Frequently asked questions