Macro Outlook
Global growth remains above 3%, according to our Nowcast
The US Treasury yield curve is close to inversion (i.e. longer-term yields falling below short-term yields). Although this is seen as a traditional recession indicator, we believe it has become less reliable and recession risk still looks low
Cyclical divergence between US & the rest of the world persists – positive momentum in the US vs negative in eurozone, Japan & Emerging Markets
The EM Nowcast shows signs of levelling-off, following stabilisation in EM asset prices and China policy easing. Market prices no longer reflect a worst-case scenario.
Since mid-2018, markets have priced in less inflation. We think this looks out of sync with US macro data in particular
Key Views
Volatility in asset prices remained high throughout November and spiked in December
Widening corporate bond spreads, particularly in EUR HY, have improved valuations significantly. We move European High-Yield Corporate Bonds from Underweight to Neutral
US Treasury yields back below 3% offer poor value versus other asset classes, but are still attractive compared to other Developed Market government bonds
With market pricing of future Fed rate hikes having shifted lower in Q4, a pick-up in US inflation remains the key risk to markets
Global equity prices have fallen this year despite leading indicators suggesting we are not yet at the end of the cycle. Current valuations suggest to us that the best way to "back growth" remains through equities
Key Risks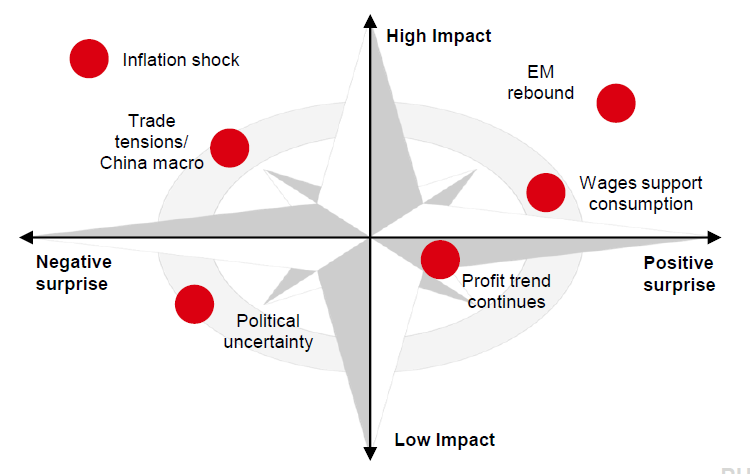 Source: HSBC Global Asset Management, Global Investment Strategy, December 2018 All numbers rounded to one decimal place.
Central Banks
As expected, the US Federal Reserve (Fed) raised interest rates at its December meeting. Given its latest economic and inflation outlook, the Fed expects to continue normalising monetary policy, but at a slower pace
In December, the European Central Bank (ECB) confirmed that net asset purchases under QE would be terminated by end-2018. Low eurozone inflation could see interest rates on hold for the whole of 2019
The Bank of England (BoE) struck a slightly more dovish tone in December amid recently weaker growth and inflation, although the Monetary Policy Committee (MPC) still views ongoing tightening as appropriate given evidence of rising wage costs
The Bank of Japan (BoJ) is likely to continue its ultra-loose monetary policy stance throughout 2019 as inflation remains well below target
We upgrade European high-yield corporate bonds from underweight to neutral
Current valuations suggest to us that the best way to "back growth" remains through global equities
Global equities – have fallen in price in 2018 despite leading indicators suggesting we are not yet at the end of the cycle. Given this, current valuations suggest that the best way to "back growth" remains through global equities
Government bonds – the near-term direction for US Treasuries remains uncertain, although we continue to recognise the relative value that exists versus Bunds, JGBs and Gilts. EM local-currency government bonds remain attractive to us
Corporate bonds – the recent sell-off has improved prospective returns, particularly in Europe. Also, corporate fundamentals continue to look good – the corporate earnings and profit cycle remains strong and credit defaults are still low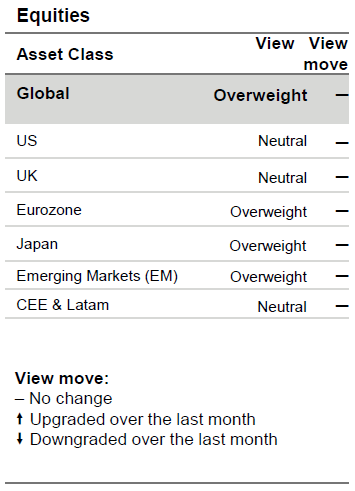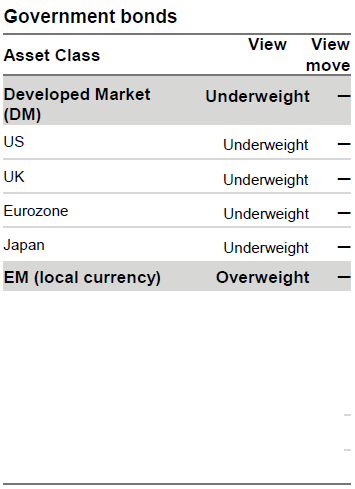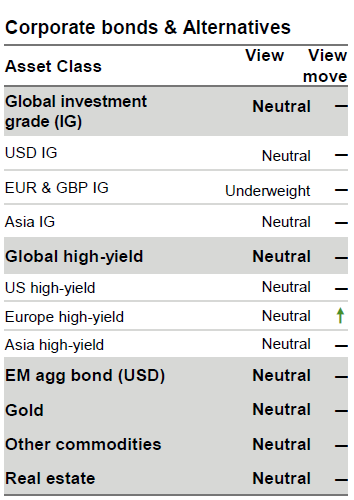 Source: HSBC Global Asset Management. Subject to change.
Global equities fell in December on the back of global economic growth concerns and lingering trade tensions
Government bonds – US Treasuries and European bonds rallied (yields fell) on heightened risk aversion and perceived safe-haven demand. Support also came from new Fed projections showing a slower pace of rate hikes in 2019. Italian bonds outperformed as the government struck a deal with the European Commission over its budget plans
Commodities – global growth concerns also hit oil prices amid rising US production, and data showing high output from other major producers
Past performance is not an indication of future performance

Note: Asset class performance is represented by different indices.
Global Equities: MSCI ACWI Net Total Return USD Index. Global Emerging Market Equities: MSCI Emerging Market Net Total Return USD Index. Corporate Bonds: Bloomberg Barclays Global HY Total Return Index value unhedged. Bloomberg Barclays Global IG Total Return Index unhedged. Government bonds: Bloomberg Barclays Global Aggregate Treasuries Total Return Index. JP Morgan EMBI Global Total Return local currency. Commodities and real estate: Gold Spot $/OZ/ Other commodities: S&P GSCI Total Return CME. Real Estate: FTSE EPRA/NAREIT Global Index TR USD.
Source: Bloomberg, all data above as of close of 31 December 2018 in USD, total return, month-to-date terms.
US
Monthly macro-economic update

US GDP growth is now trending at the fastest pace since early 2015 amid strong growth in consumer and government spending, and robust business activity
In December, a speech by Fed Chair Powell signalled a slightly dovish stance, whilst the Federal Market Open Committee (FOMC) lowered their interest rate projections
Europe
Monthly macro-economic update

Eurozone: Survey data in Q4 2018 has been fairly weak, which reduces the prospect of a Q4 GDP growth rebound, following the disappointing 0.2% qoq
print in Q3
UK: The economy slowed in Q4 2018 amid high Brexit-related uncertainty, but underlying fundamentals remain fairly robust
Base case view and the implications

Eurozone: We upgrade European high-yield corporate bonds on the back of better risk-adjusted prospective returns. We expect GDP growth at around trend in 2019
UK: Gilts remains unattractive but equity valuations have recently improved
Asia
Monthly macro-economic update

China: Further policy easing is likely, with stability the first priority amid still slow credit growth and a cooling property market
India: Looser monetary and fiscal policy is likely in the near term, given the benign inflation outlook, and ahead of national elections in H1 2019
Japan: GDP growth is likely to have recovered following a sharp contraction in Q3, supported by a robust labour market and falling oil prices
Base case view and the implications

China: We believe equity markets will find support from continued policy easing and favourable valuations
India: The positive case for equities is supported by reforms, higher infrastructure spending, and improving governance
Japan: We think equities remain very attractively valued, with the risk premium underpinned by ultra-loose BoJ policy
Other EM
Monthly macro-economic update

Brazil: Business confidence has surged following the election of President Jair Bolsonaro who has appointed a market-friendly cabinet
Russia: The economy is facing headwinds from lower oil prices, a VAT rate hike and rising inflation. Further sanctions are a key risk for 2019
MENA: Civil conflict, high unemployment and lower oil prices are weighing on the region's economic outlook. Progress with structural reforms is also limited
Base case view and the implications

The global macro backdrop has improved for emerging markets (EMs) amid lower oil prices, subsiding US dollar strength and lower US Treasury yields
The success of policy easing in China and the course of US-China trade tensions remain important factors for the outlook
We believe we are being well rewarded to bear EM equity risk
Long-term Asset class positioning tables (>12 months)
Basis of Views and Definitions of 'Long term Asset class positioning' tables (>12 months)
Important Information for Customers